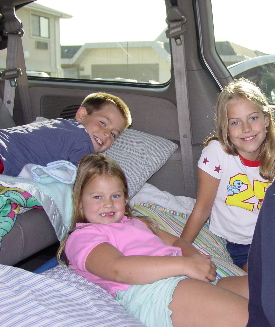 August 5, 2003
Here are the kids in what will be their home for the next two weeks. We're taking off for a road trip to the east coast. Doesn't it look comfy?
---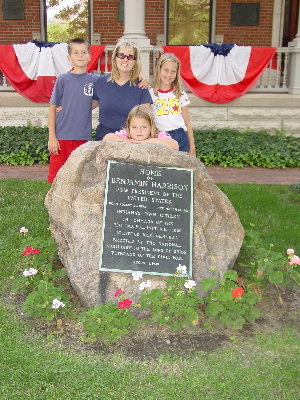 August 5, 2003
Here we are at the home of President Benjamin Harrison in Indianapolis, Indiana. President Harrison, the 23rd President of the United States, is the kids' fifth cousin, four times removed.
---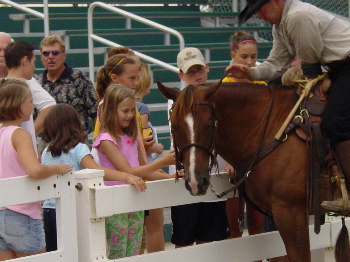 August 6, 2003
Today we visited the Kentucky Horse Farm in Lexington, Kentucky. Brynja and Treva went on a horse ride and we saw a variety of breeds. There was also a big monument/tribute/burial site of the famous racehorse Man o'War.
---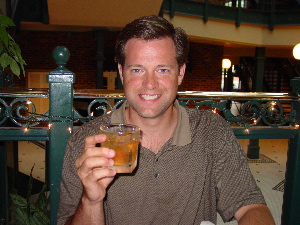 August 6, 2003
As long as I was in Kentucky I had to try the Woodford Reserve, which is made a short drive away in Versailles.
---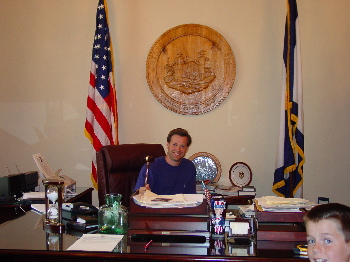 August 7, 2003
In the capitol building in Charleston, West Virginia we met Governor Bob Wise. We were also invited into the Secretary of State's office. Here I am sitting at his desk. We were treated like special guests.
---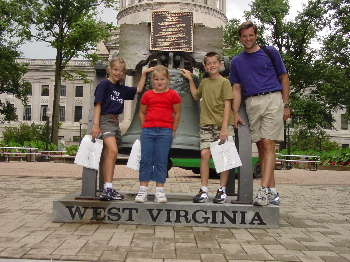 August 7, 2003
West Virginia, mountain momma, take me home, country roads.
---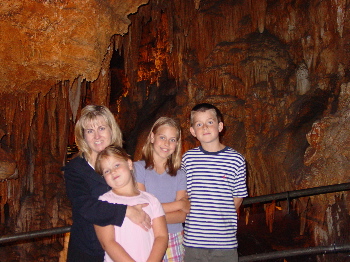 August 8, 2003
The underground caverns in Luray, Virginia were incredible.
---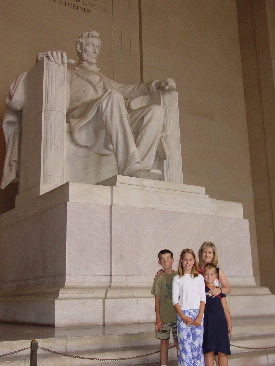 August 9, 2003
We made it to Washington, D.C. and walked around for two days looking at all the sights. Here we are with the Great Emancipator.
---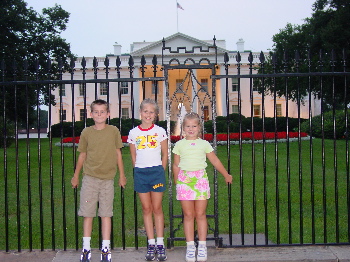 August 10, 2003
The future house of one of these three. Which one will it be?
---
August 11, 2003
At Fort McHenry in Baltimore we toured the location of the famous battle of the War of 1812. The defender of the Fort, Col. George Armistead, is the kids' G-G-G-G Grandfather.
---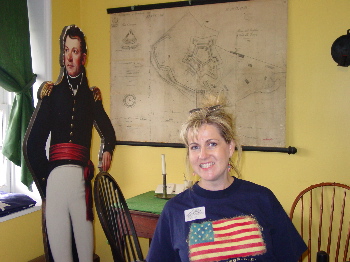 August 11, 2003
Elizabeth posed with her famous ancestor in what were his quarters while in charge of the Fort.
---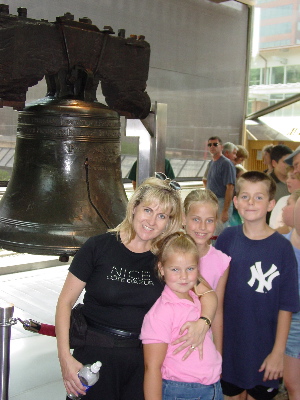 August 12, 2003
In Philadelphia we toured Independence Hall and saw where the Declaration of Independence and the Constitution were signed. Here we are in front of the Liberty Bell.
---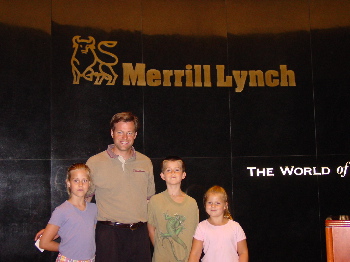 August 13, 2003
Today we walked and walked, rode the subway and tried to see as much as possible. Central Park, The Plaza, 5th Avenue, Times Square, The Statue of Liberty, Broadway, Battery Park, Ground Zero, and of course we had to check out Merrill Lynch headquarters. The next day we pulled out of town at 11 a.m. and six hours later the power was completely out in all of Manhattan.
---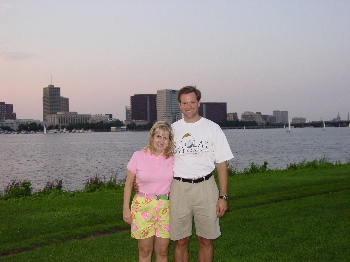 August 14, 2003
We loved Boston and spent three hours walking around in very nice areas including this park along the Charles River. We had a nice time visiting with our friends Eva and Biere Marceau who have lived there for several years.
---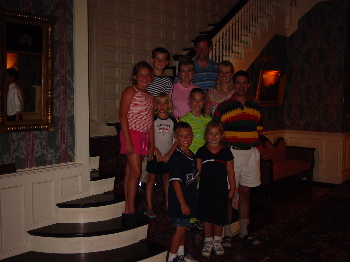 August 15, 2003
Just outside Syracuse, New York we stayed with our friends and former Edina residents, Carl and Anne Weiss. They took us to a beautiful restaurant and here we are posing for a group shot in the lobby of the Brewster Inn.
---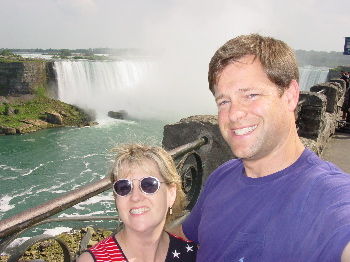 August 16, 2003
Niagara Falls was a mass of people visiting this amazing natural wonder. Elizabeth wasn't real happy about the constant mist from the falls wreaking havoc on her hair.
---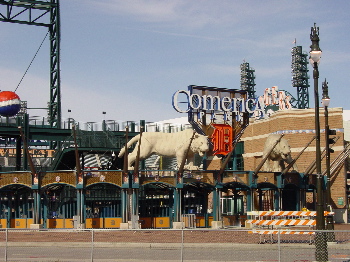 August 17, 2003
Our tour of Detroit was brief but we did manage to snap a few photos. Here's Comerica Park. Wouldn't it be nice to see an outdoor baseball field like this in Minneapolis?
---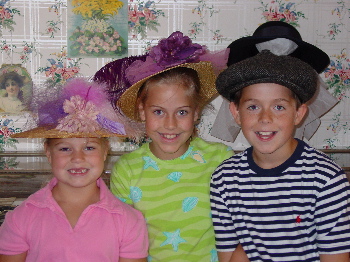 August 18, 2003
We stopped at The Henry Ford this morning to see Greenfield Village. This village explores American history and innovation at the turn of the century. Here are the kids trying on hats.
---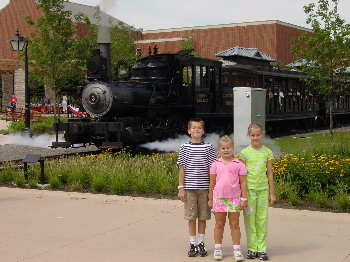 August 18, 2003
This is the oldest steam locamotive in operation.
---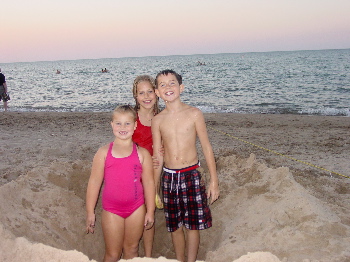 August 18, 2003
In Chicago we stayed with our friends Byrd & Mark Matejka. They live in Wilmette and are very close to Lake Michigan. We went over to the beach to swim and watched the sun set.
---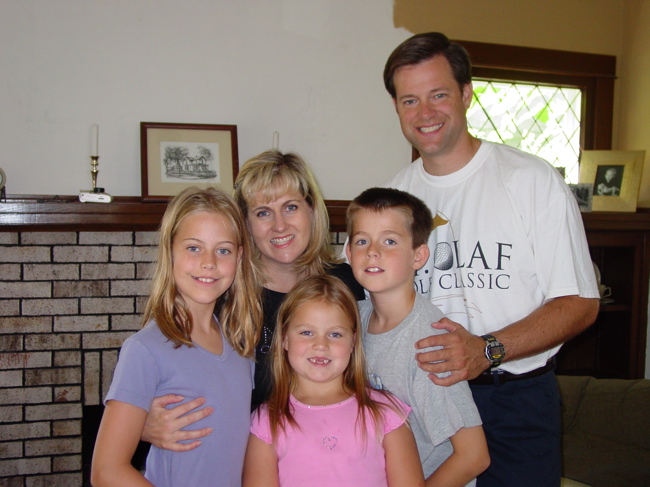 August 19, 2003
It's finally time to head back home. Time for our first picture together as a family.
---
---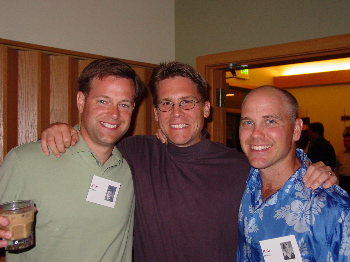 August 23, 2003
Today Northfield High School graduates of 1983 gathered at the Northfield Golf Club for their 20 year reunion. How time flies. Here I am with Jeff Forbes and Bobby Hauck.
---