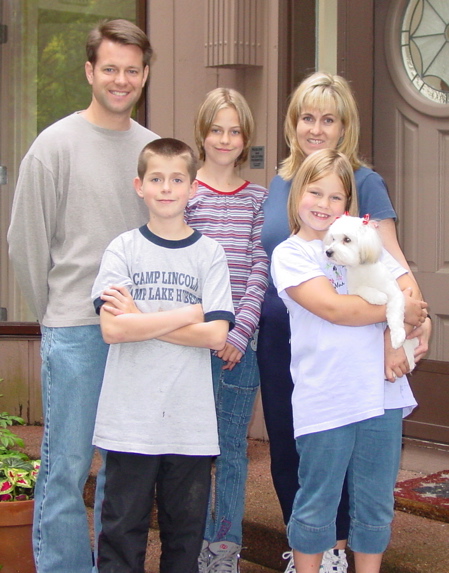 June 1, 2004
Here's the whole crew just before taking off on another road trip to the east coast.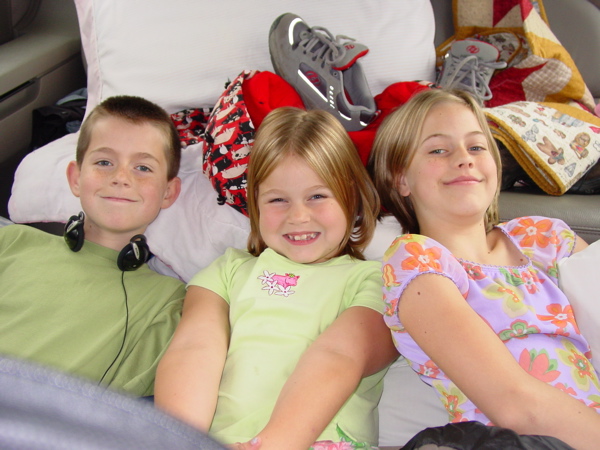 June 2, 2004
Once again the kids got comfortable for some long hours in the minivan.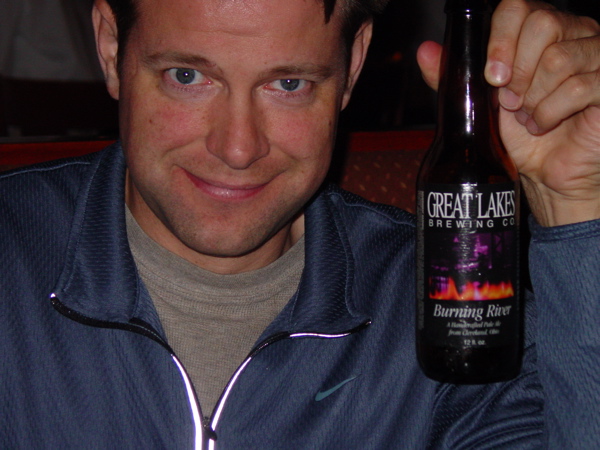 June 2, 2004
Here's the obligatory shot of me with a sample of some local brew in Cleveland.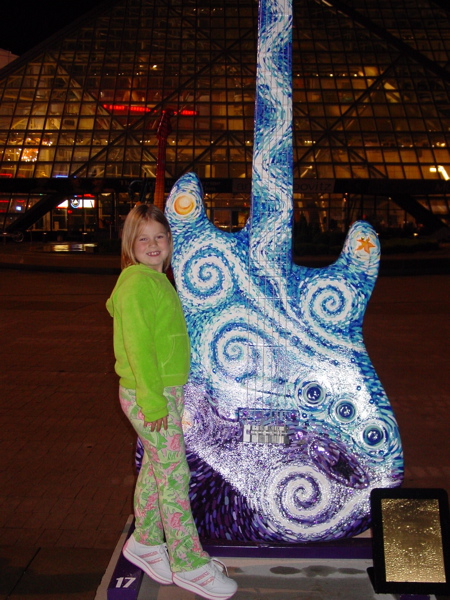 June 2, 2004
We didn't have time to tour the Rock and Roll Hall of Fame, but we did manage to get a picture of Treva outside with one of the many guitar statues.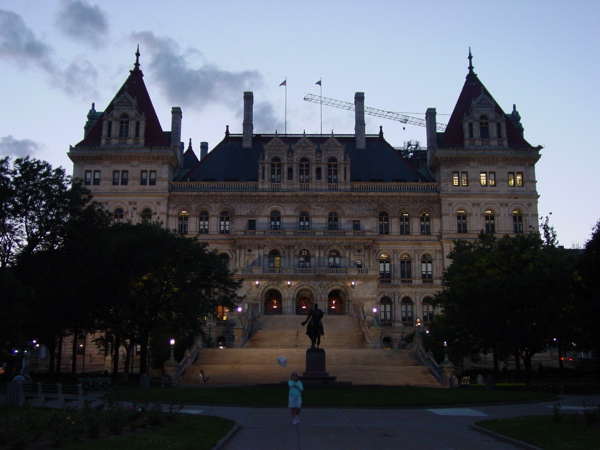 June 3, 2004
Next stop was Albany, New York where we walked around and saw the capitol city's sights.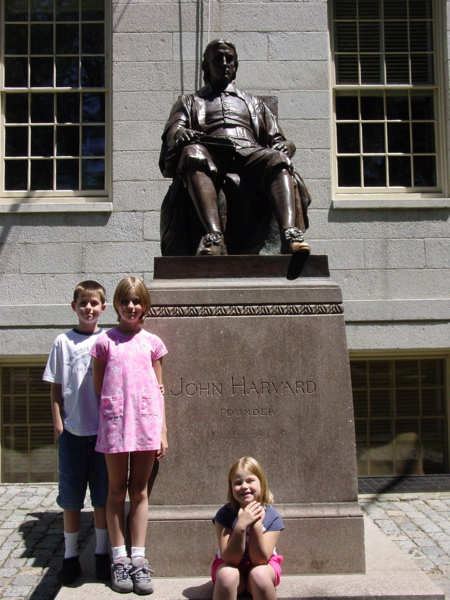 June 4, 2004
We joked about picking out the kids' dorm rooms while walking around the Harvard Campus in Cambridge, Mass. Here are the kids by the statue of John Harvard which is also called the "statue of three lies." (It incorrectly lists him as the college's founder when in fact he was its' first benefactor, secondly it lists the wrong year as the college's first, and finally it's not really John Harvard since there were no known photos of him when the statue was made.)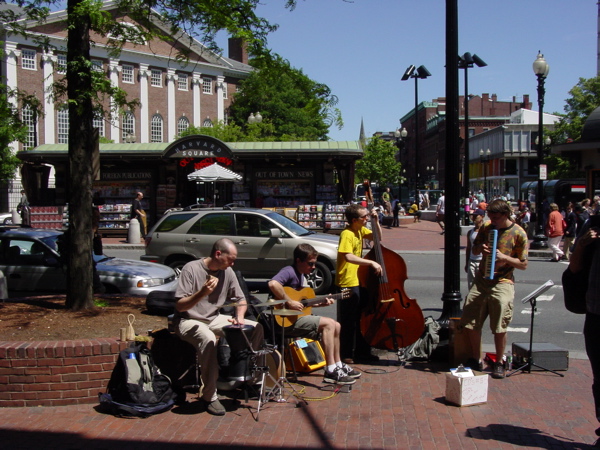 June 4, 2004
Harvard Square was abuzz with activity including street performers and people preparing for an upcoming commencement ceremony.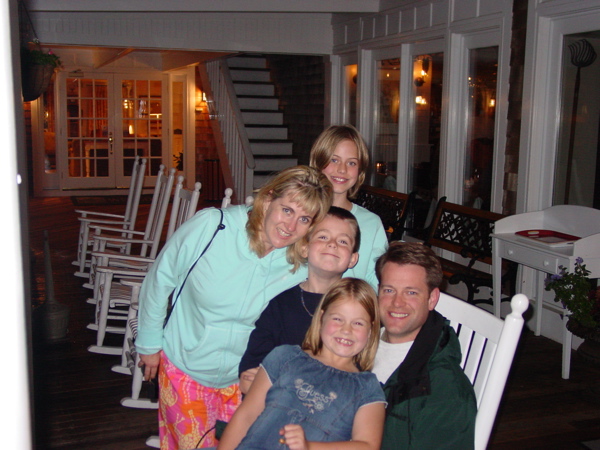 June 5, 2004
We finally made it to Martha's Vineyard and met up with another family to spend a week. Here's the crew after our first dinner at Chesca's Restarurant in Edgartown.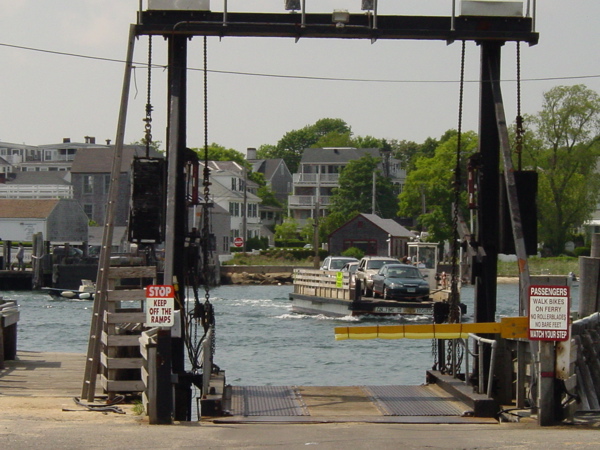 June 7, 2004
To get from Edgartown to Chappaquidick where we stayed there was a short ferry ride. Three or four cars at a time the "On Time II" and the "On Time III" go back and forth all day long.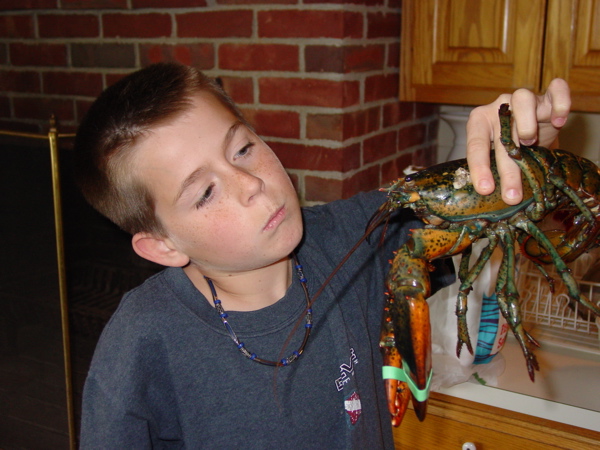 June 7, 2004
We ate plenty of lobster and clam chowder during out trip. One night we even steamed lobsters ourselves. The kids were naturally interested in the live creatures.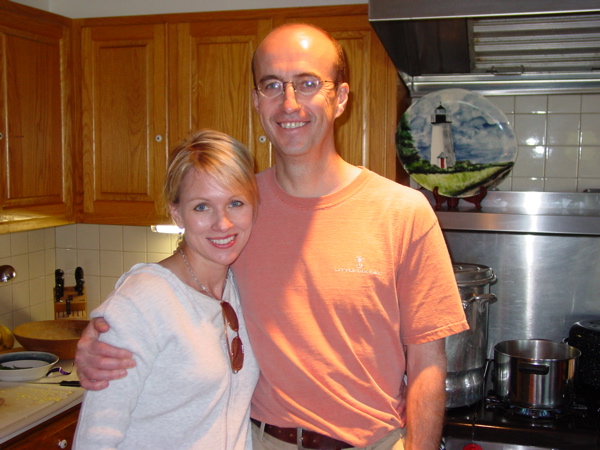 June 7, 2004
Andrea and Bob posed in the kitchen of our temporary home. It was a perfect fit for both families at the same time.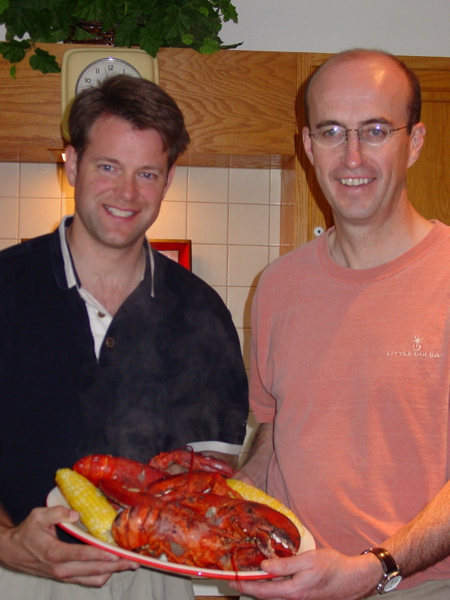 June 7, 2004
Here Bob and I proudly display our handy work. It was a true New England feast including some outstanding mussels!.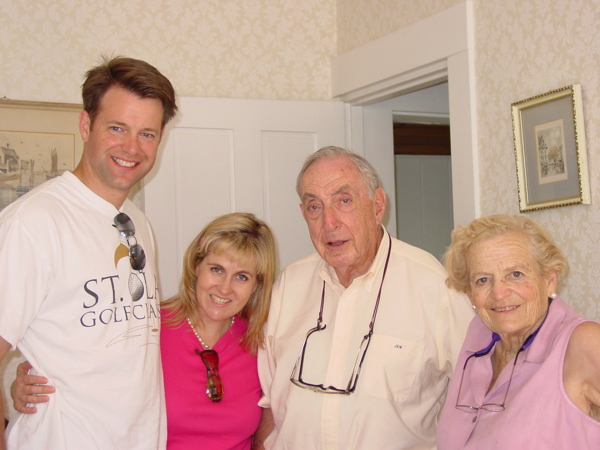 June 8, 2004
We made an afternoon lunch visit to the home of Jim and Janet Wolf who have had a place in Edgartown for 50 years. We met them in March while in Fort Lauderdale and they told us to swing by when we were on the island.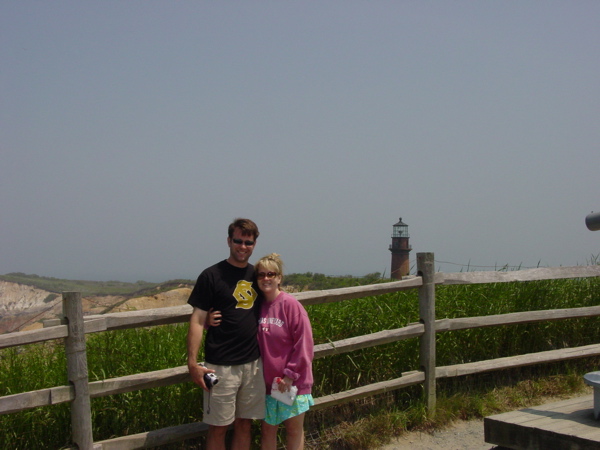 June 9, 2004
What trip to Martha's Vineyard would be complete without seeing Gay Head? Here Elizabeth and I are pictured with the Gay Head Lighthouse in the background.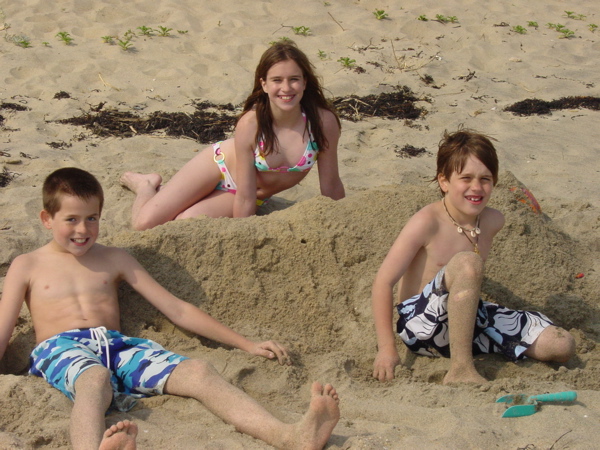 June 9, 2004
The Wolfs were also nice enough to give us their key to a private beach on the Atlantic side of the island. The kids had fun burying each other in sand. Here Jett, Elizabeth and Jack surround the entombed Brynja.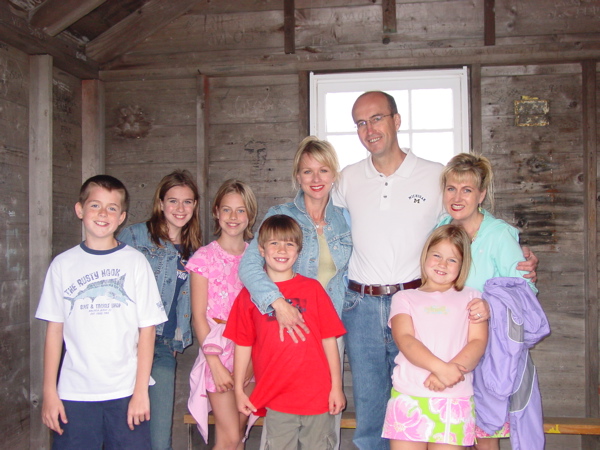 June 9, 2004
Many Chappy residents leave their cars behind and take the ferry to Edgartown on foot. It's cheaper and you don't have to find a place to park. Here's the crew just before boarding.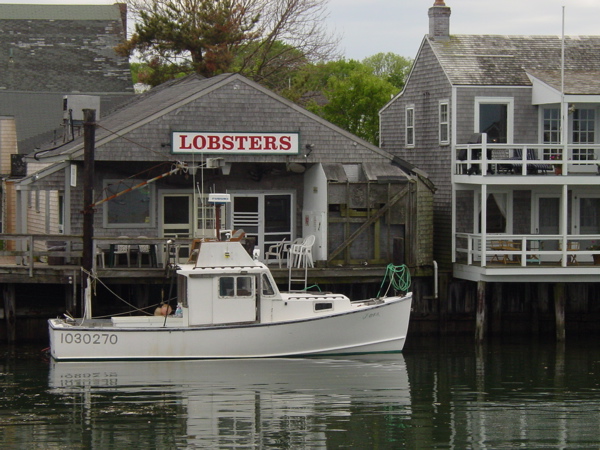 June 10, 2004
Rough winds put a stop to our planned fishing trip so the boys joined the girls on a day trip to Nantucket. The very quaint destination is filled with cap code style homes with white picket fences, cobblestone streets lined with cute shops and restaurants, and boats like the one pictured here.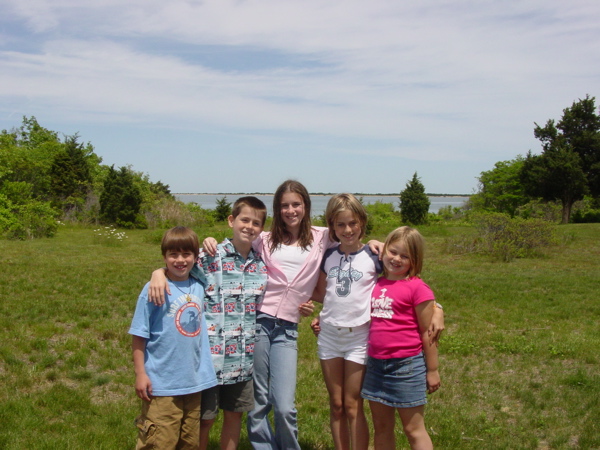 June 11, 2004
The home in which we stayed was beautiful and located right on Cape Poge. Here are the kids with the cape in the background. Each day the children wandered down the road to visit the neighbor's horses. Brynja fell in love with the horses and is trying to figure a way to buy a horse farm on Martha's Vineyard!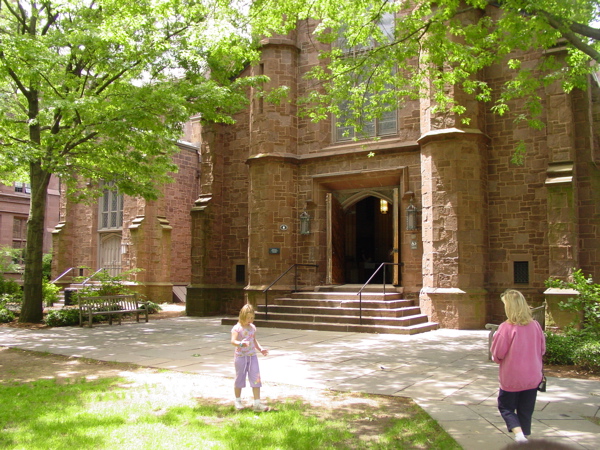 June 13, 2004
The trip home was a quick one with not much time to stop along the way. We did manage to check out another Ivy League school in New Haven, Connecticut. We walked around the Yale Campus and ate at "Educated Burger."