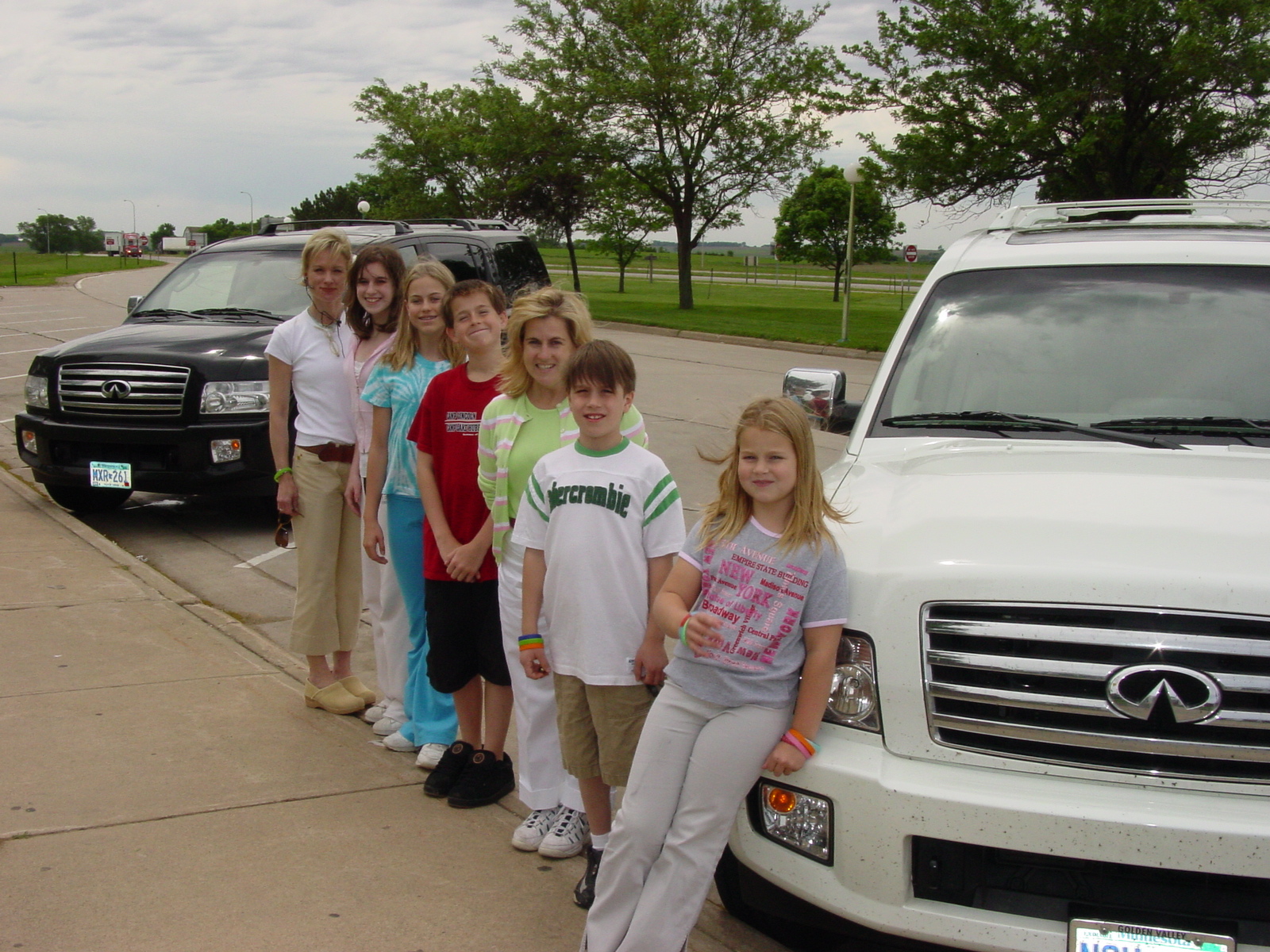 June 7, 2005
With the end of the school year comes the annual Kleber family road trip. This year we went West! Our friends Bob and Andrea and their two kids joined us. Here we are at our first rest stop. Notice the vehicles - "Two Infinities and Beyond."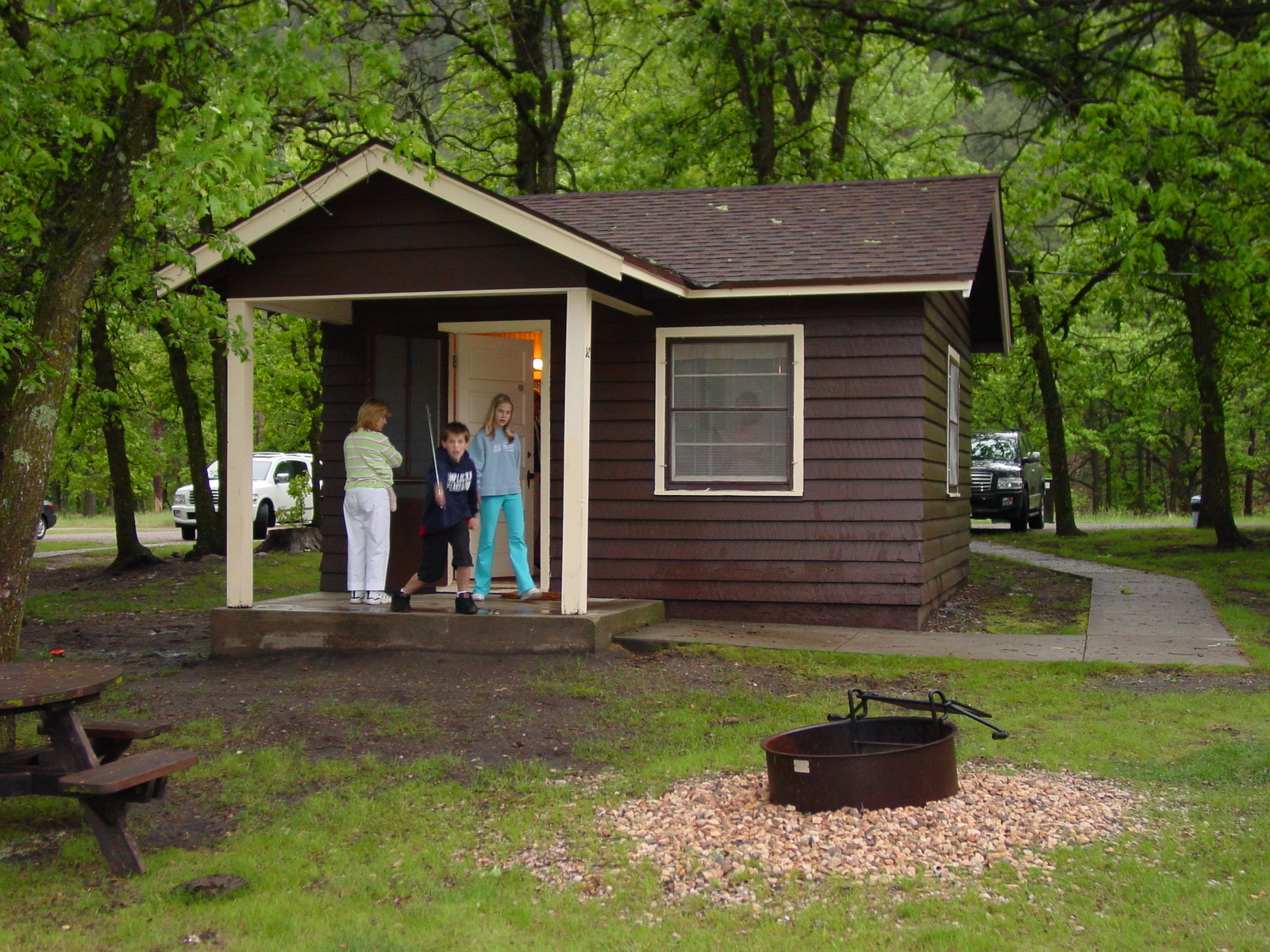 June 7, 2005
First stop - The Corn Palance in Mitchell, SD. Second stop - Wall Drug. After a long day of driving we made it to our destination in Custer State Park. We stayed in a couple very small cabins at the State Game Lodge. The Buffalo pies in the yard made for a very authentic experience.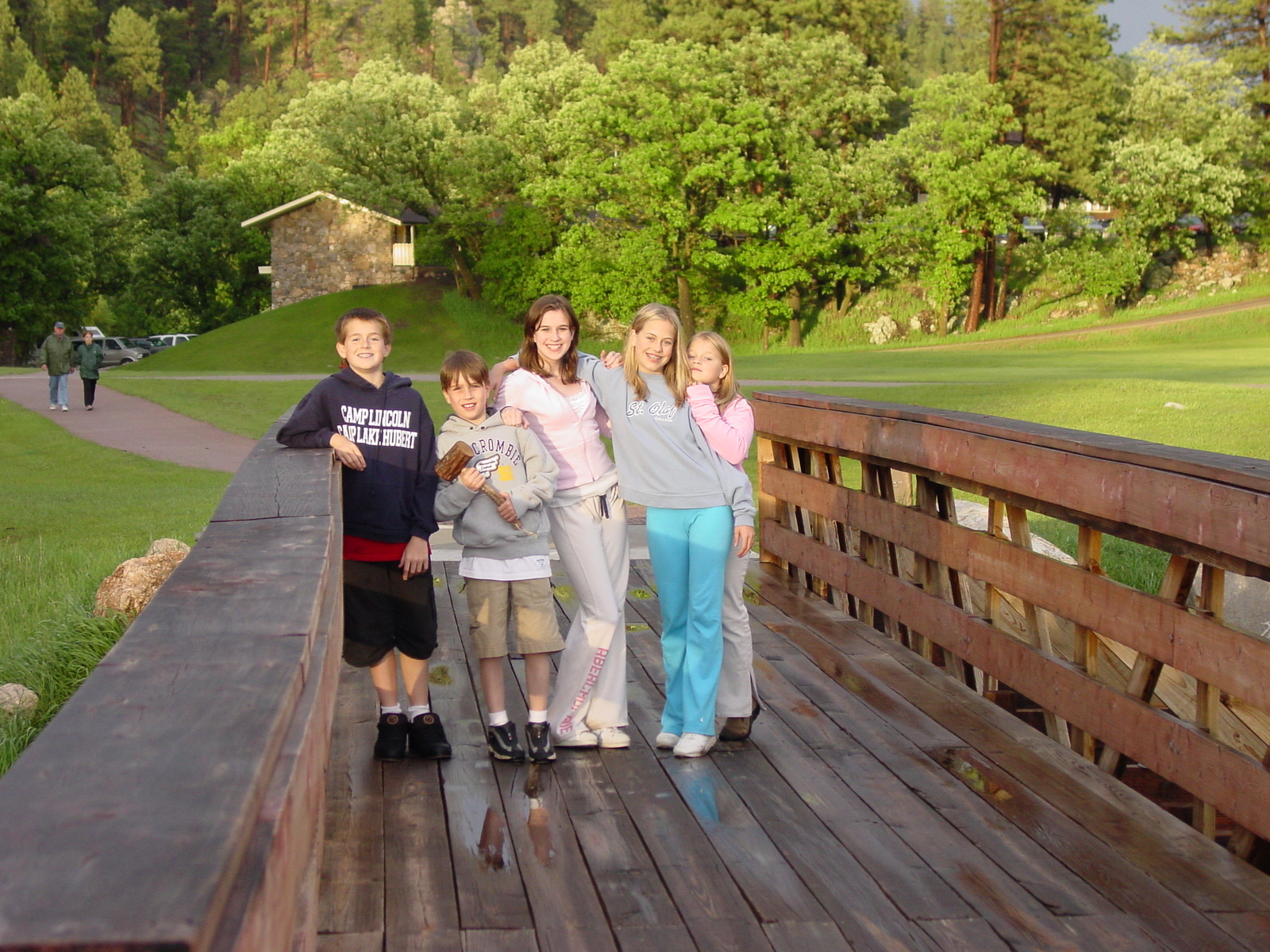 June 7, 2005
Here are the kids just before dinner at the State Game Lodge in Custer State Park.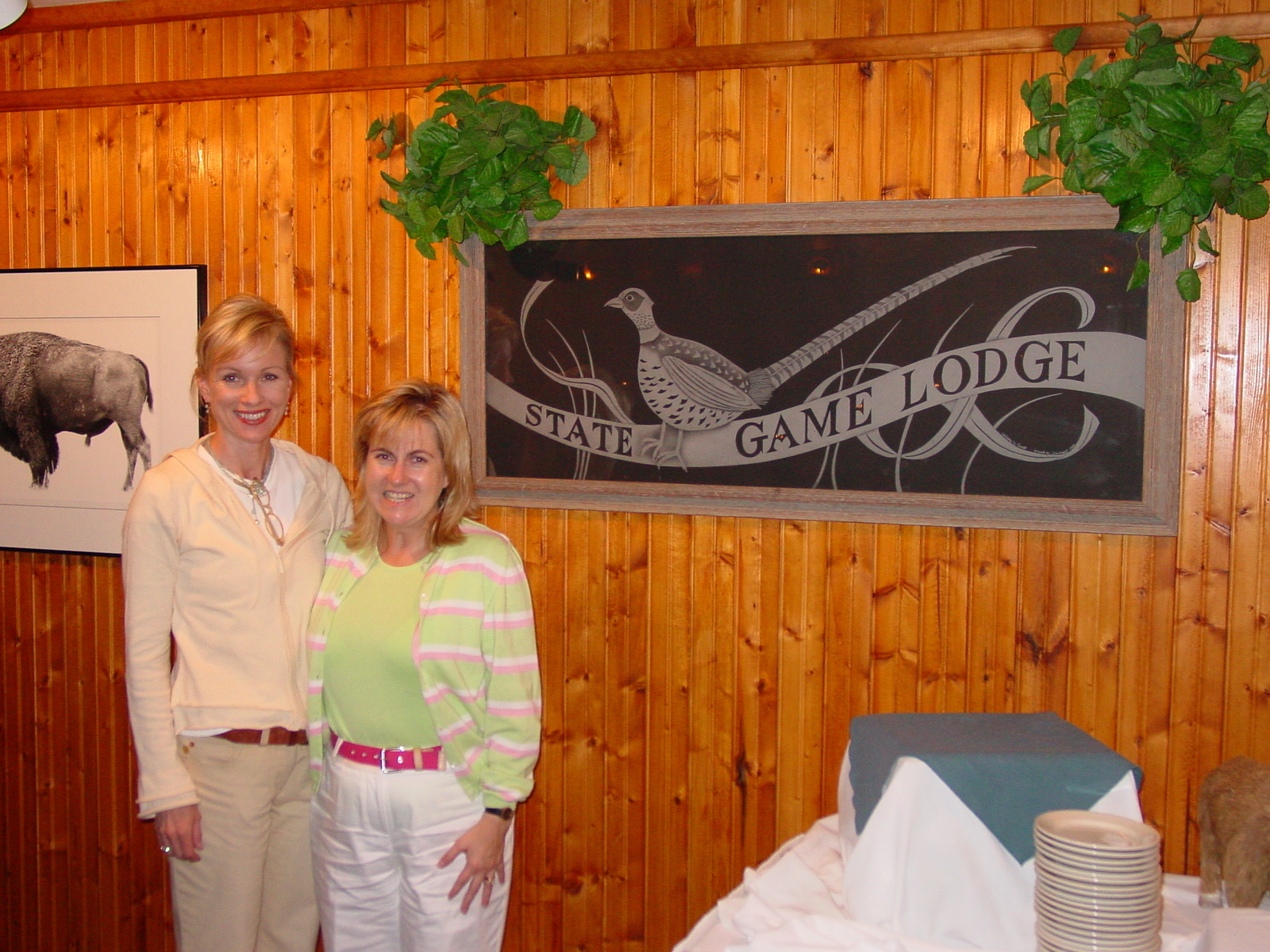 June 7, 2005
Andrea and Elizabeth were a bit happier with the dining than the accommodations.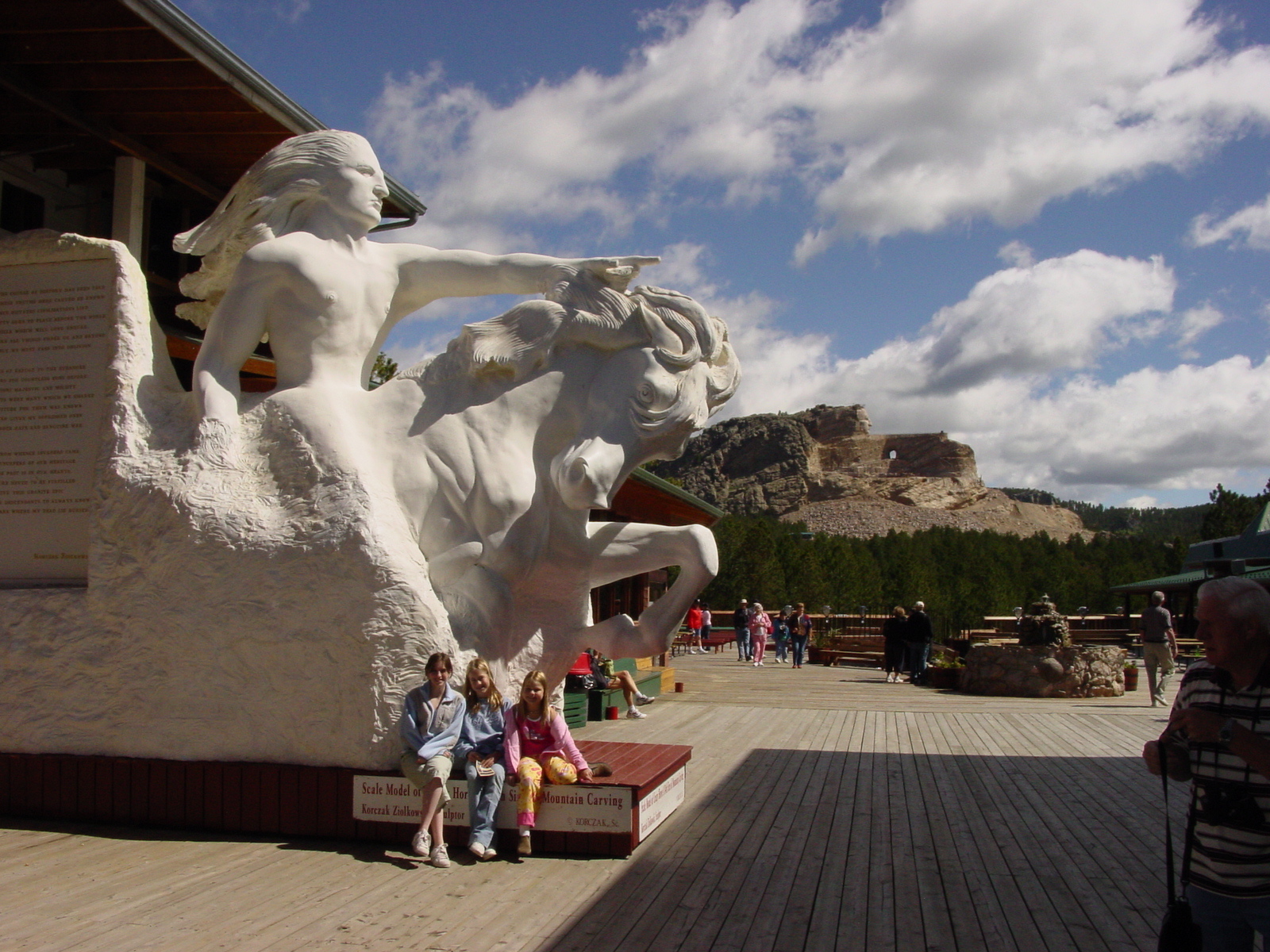 June 8, 2005
The next day we were up and at 'em. Our first stop was the Crazy Horse monument. It will be an amazing sculpture when it's finished in 2317. The foreground shows what it will look like when finished and in the back you can see how far along they are.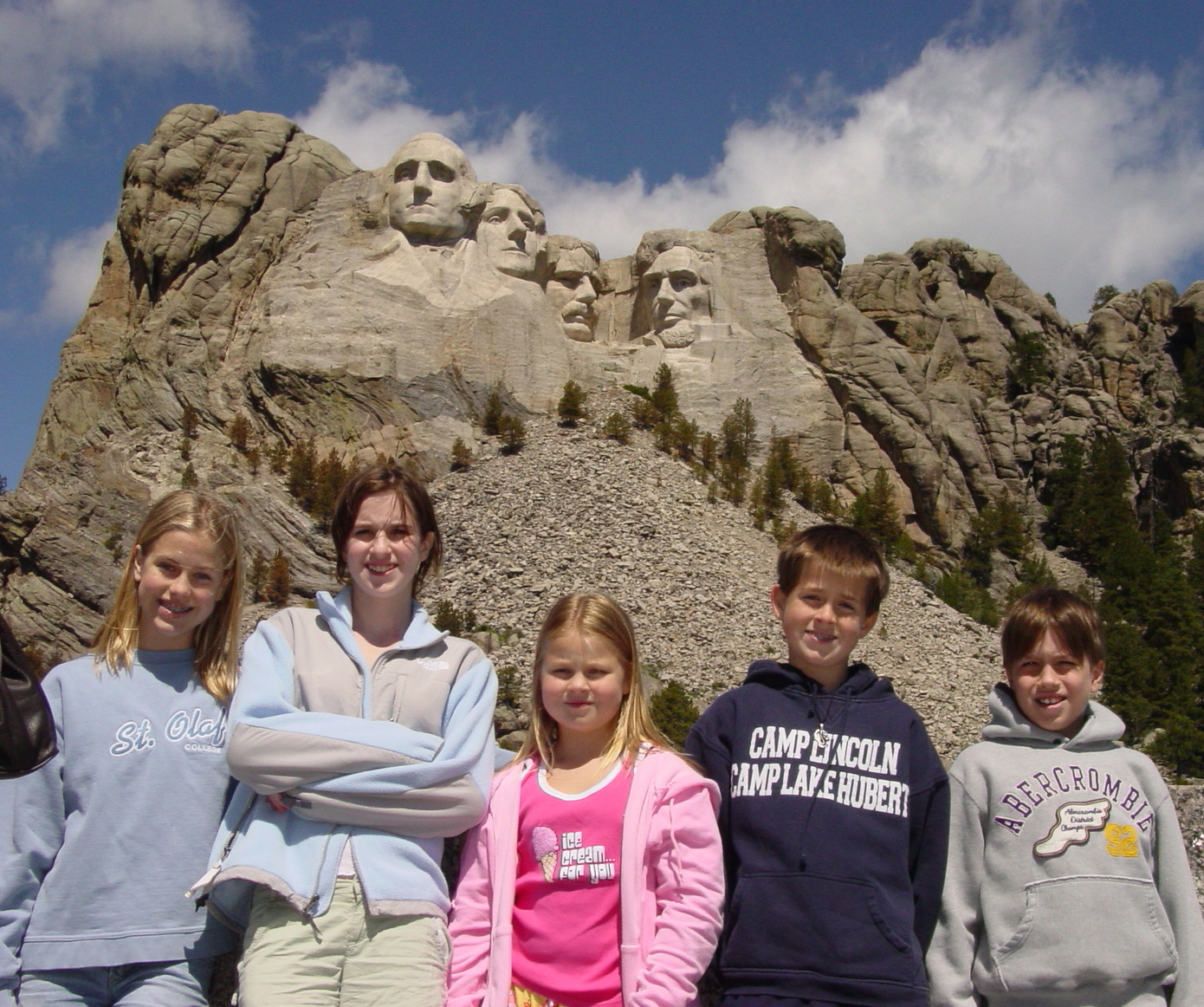 June 8, 2005
What trip through South Dakota would be complete without a stop at Mount Rushmore? Jett made himself sound like a whiz kid when he told us "George Jefferson" was one of the faces carved into the mountain. "Wheezy!"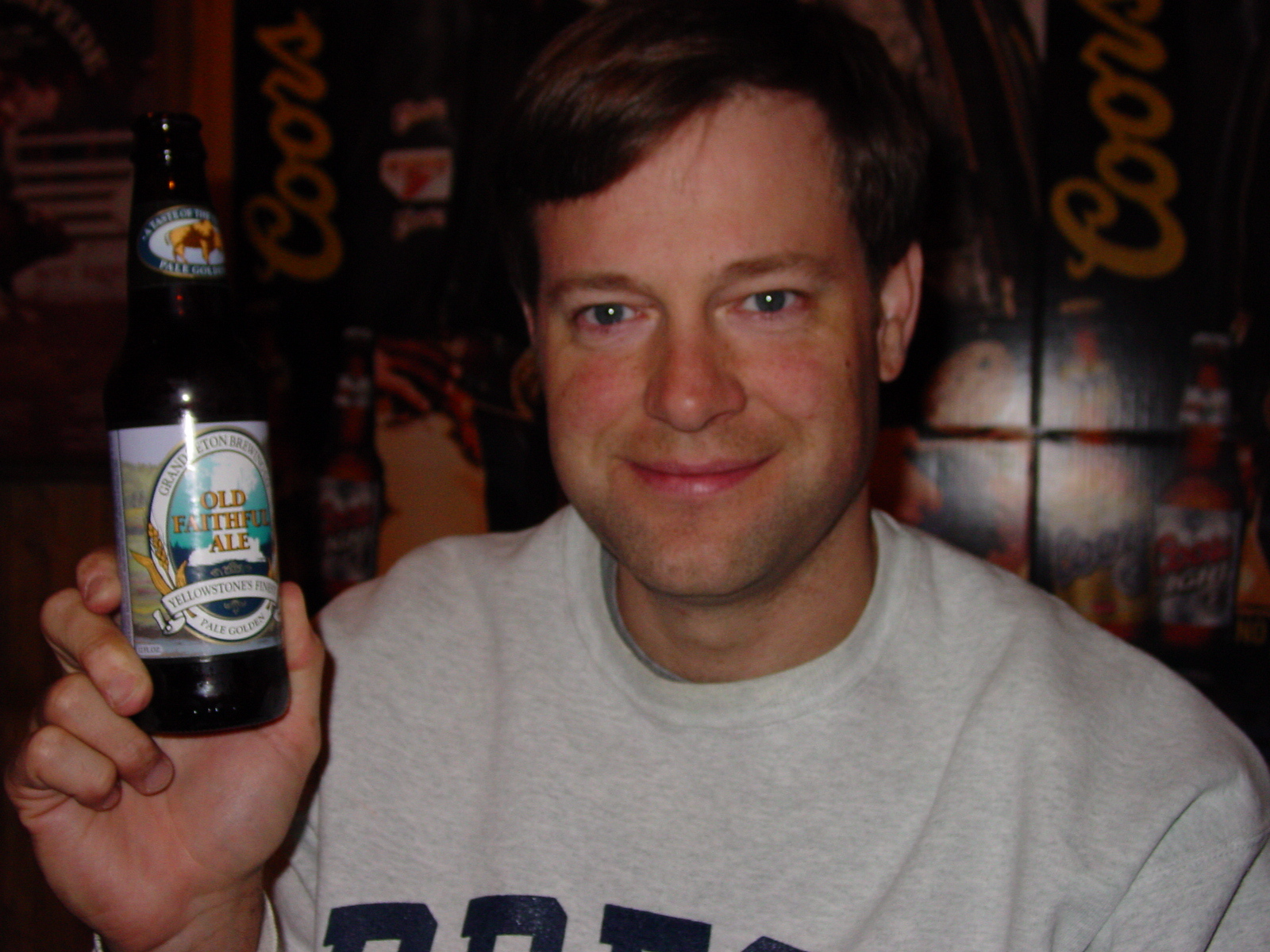 June 8, 2005
We drove all the way through the Big Horn Mountains today to Cody, Wyoming. It was late when we arrived so we only had time to grab dinner. Here's my obligatory photo drinking the local fare - Old Faithful Ale.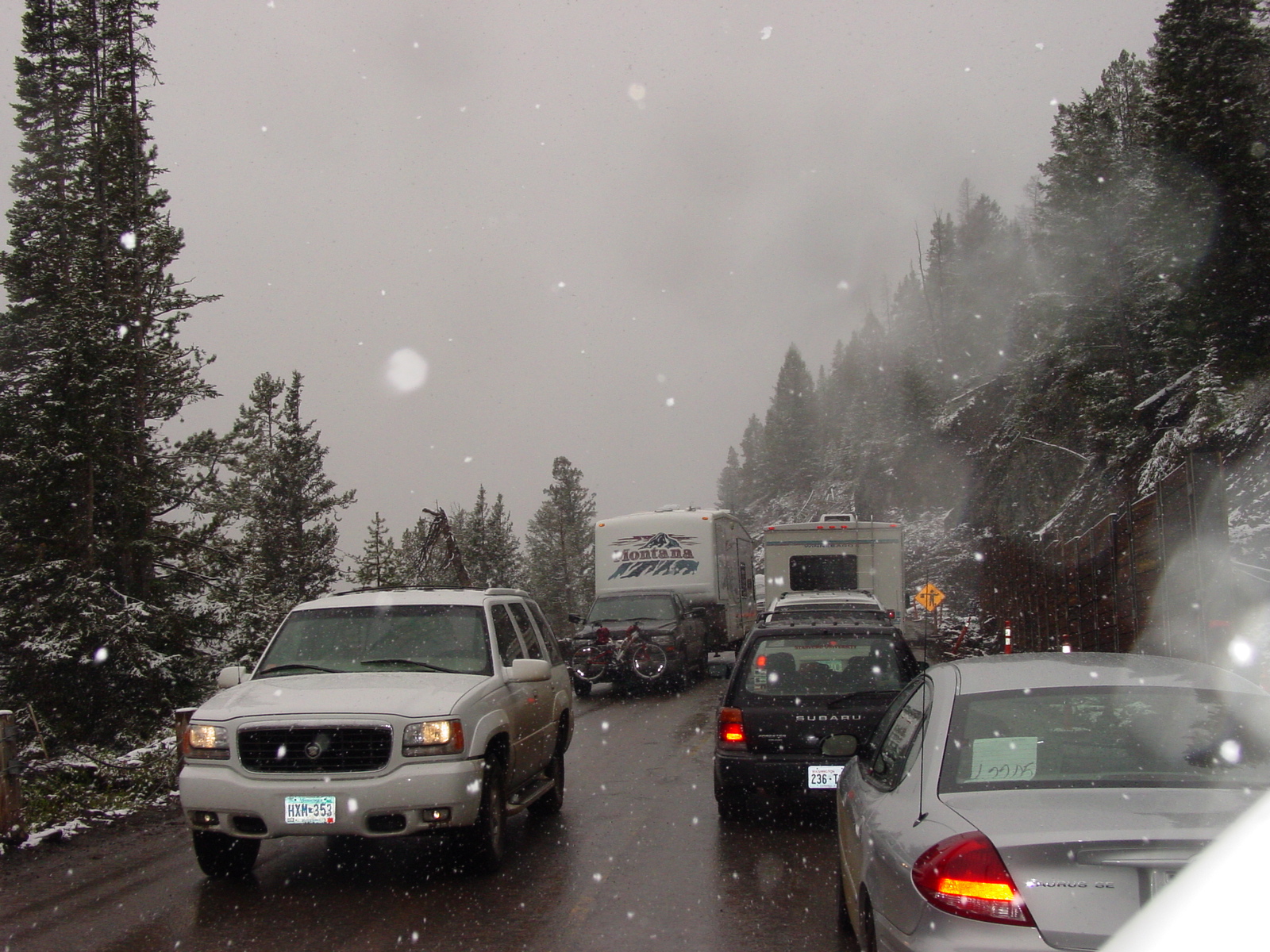 June 9, 2005
Today was another day of driving. As we drove through Yellowstone National Park the weather turned nasty.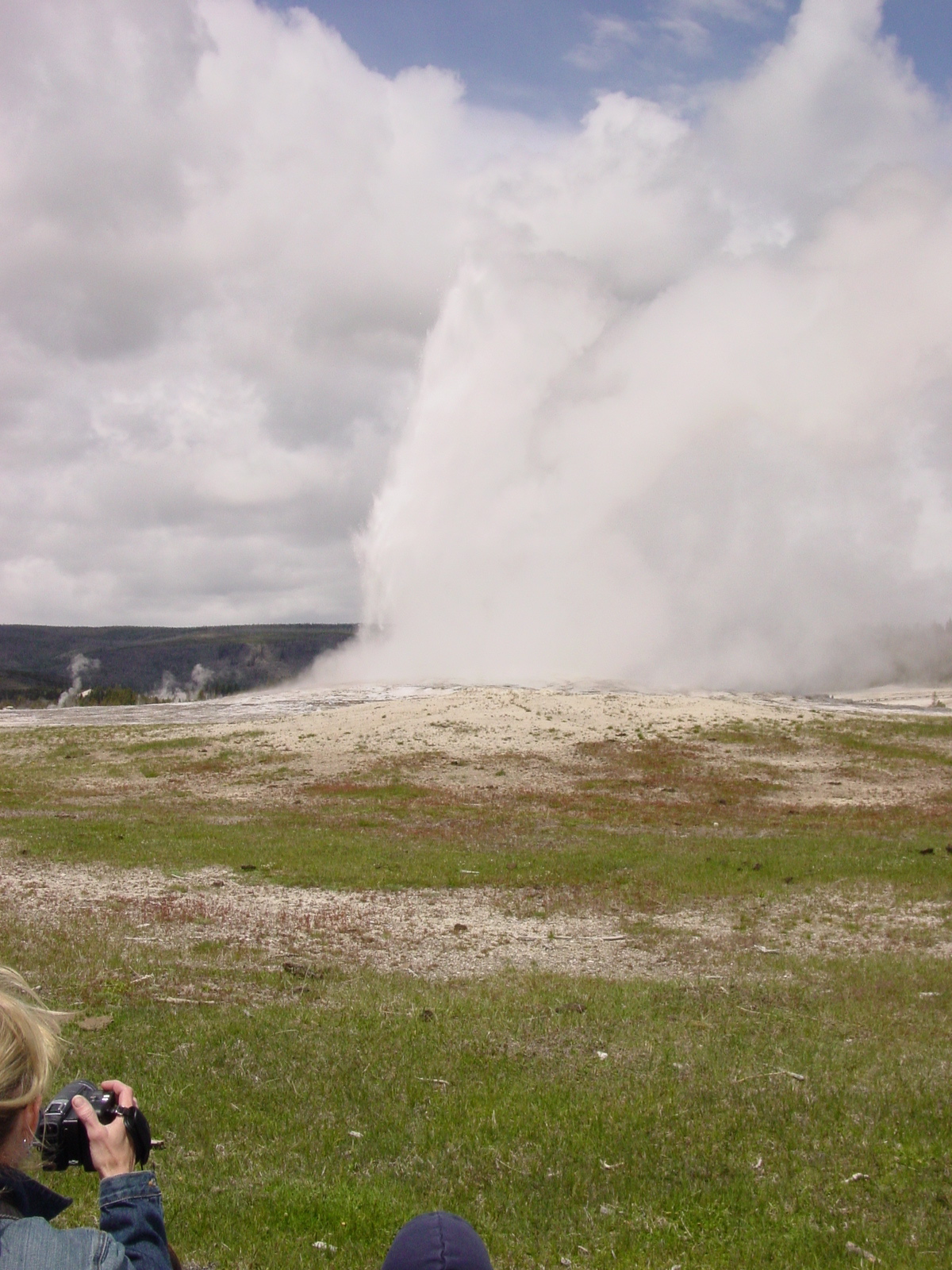 June 9, 2005
We arrived at our destination and joined the crowd of people watching the Old Faithful Geyser.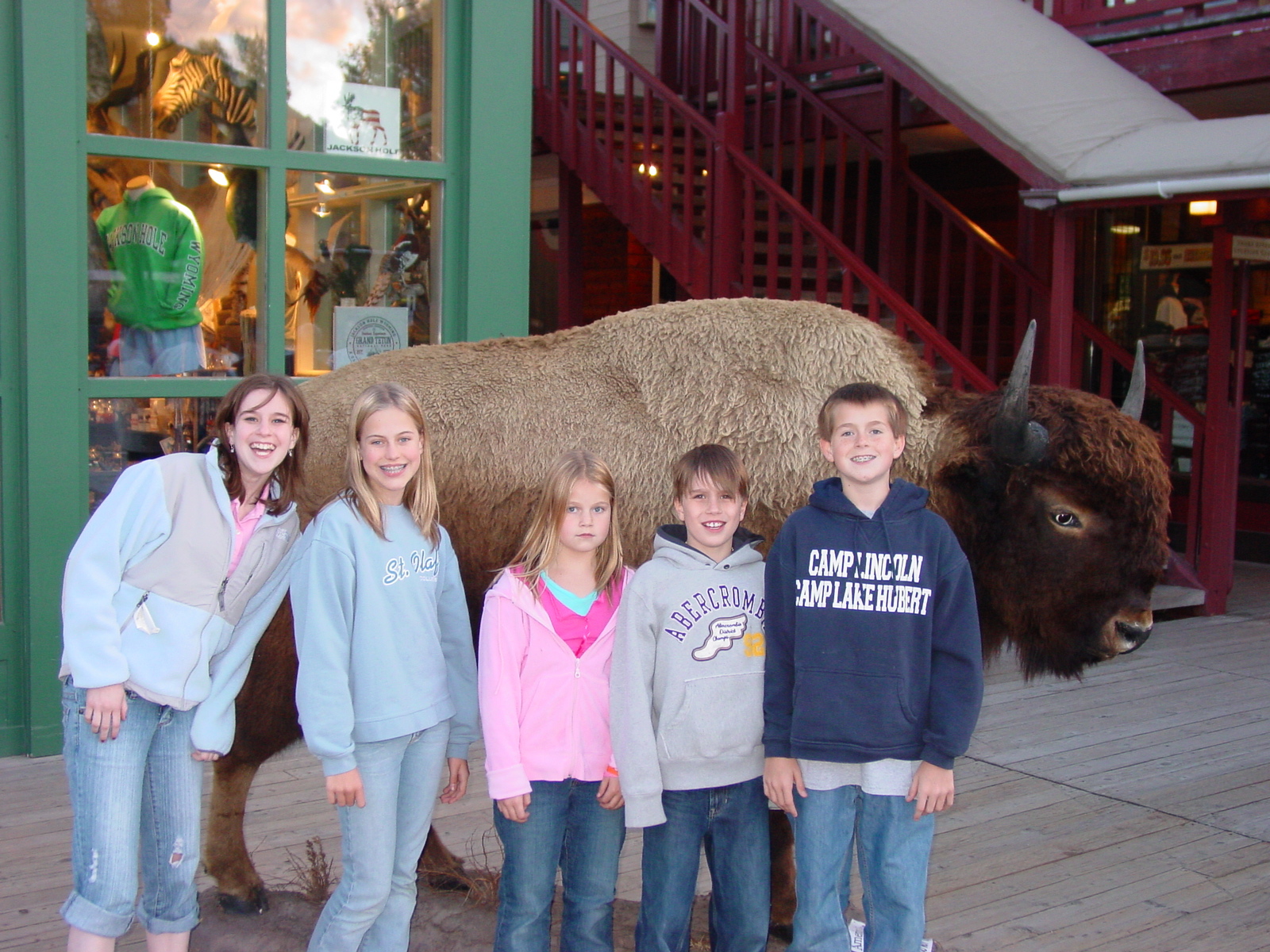 June 9, 2005
Then it was on to Jackson, Wyoming. We rented a house in Teton Village next to the Jackson Hole Ski Resort. For our first night we ate at the Snake River Grill, which I recommend to any travelers in Jackson. The kids enjoyed the stuffed buffalo on display outside a downtown store.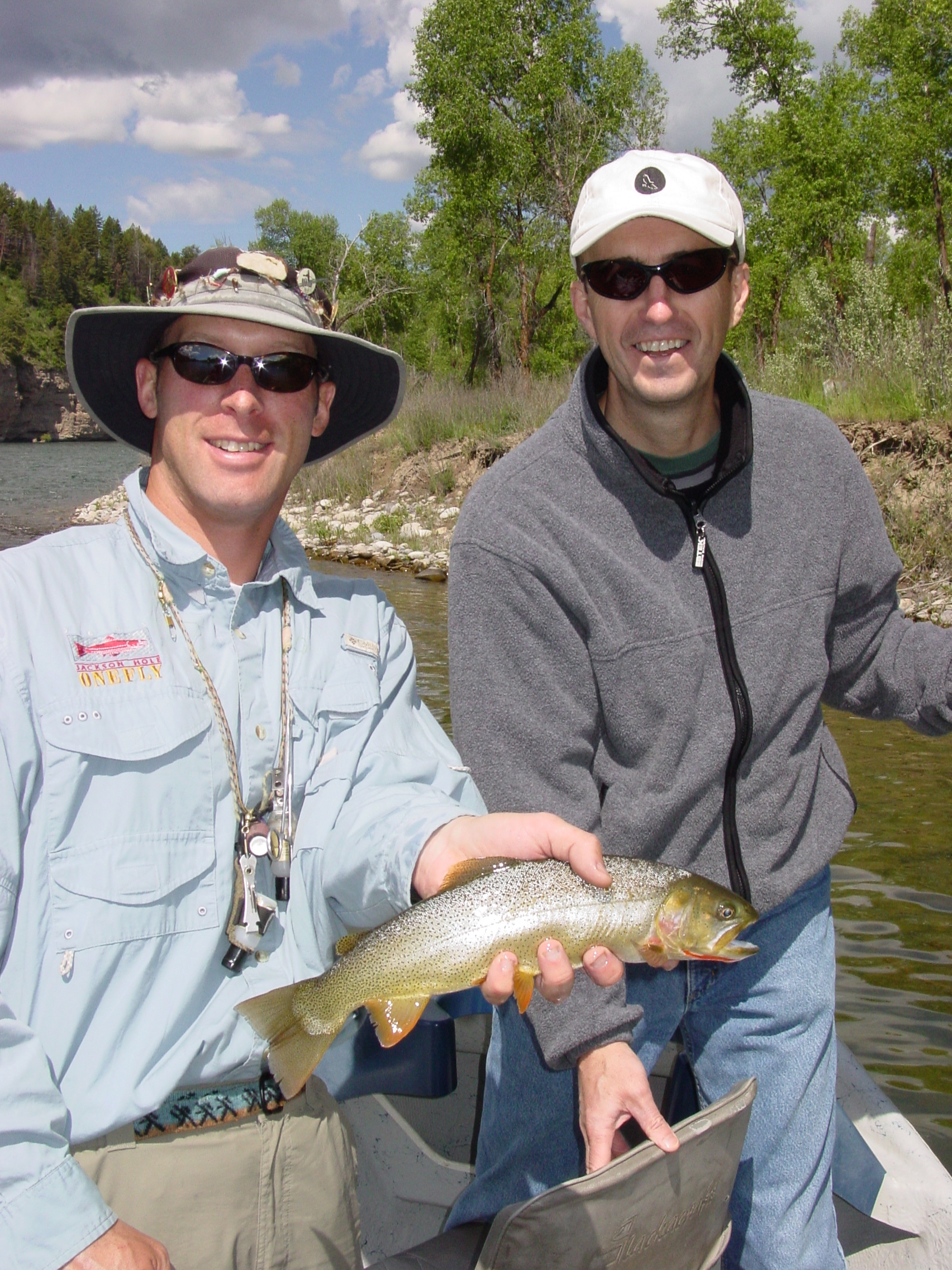 June 10, 2005
Bob and I were up early to meet our fishing guide for the morning. We drove into Idaho and did some wet fly fishing on the lower fork of the Snake River. Here's Bob with his native Cutthroat Trout. The guide handled all the fish we caught and coached us where to put our line. He must have thought we were from the city!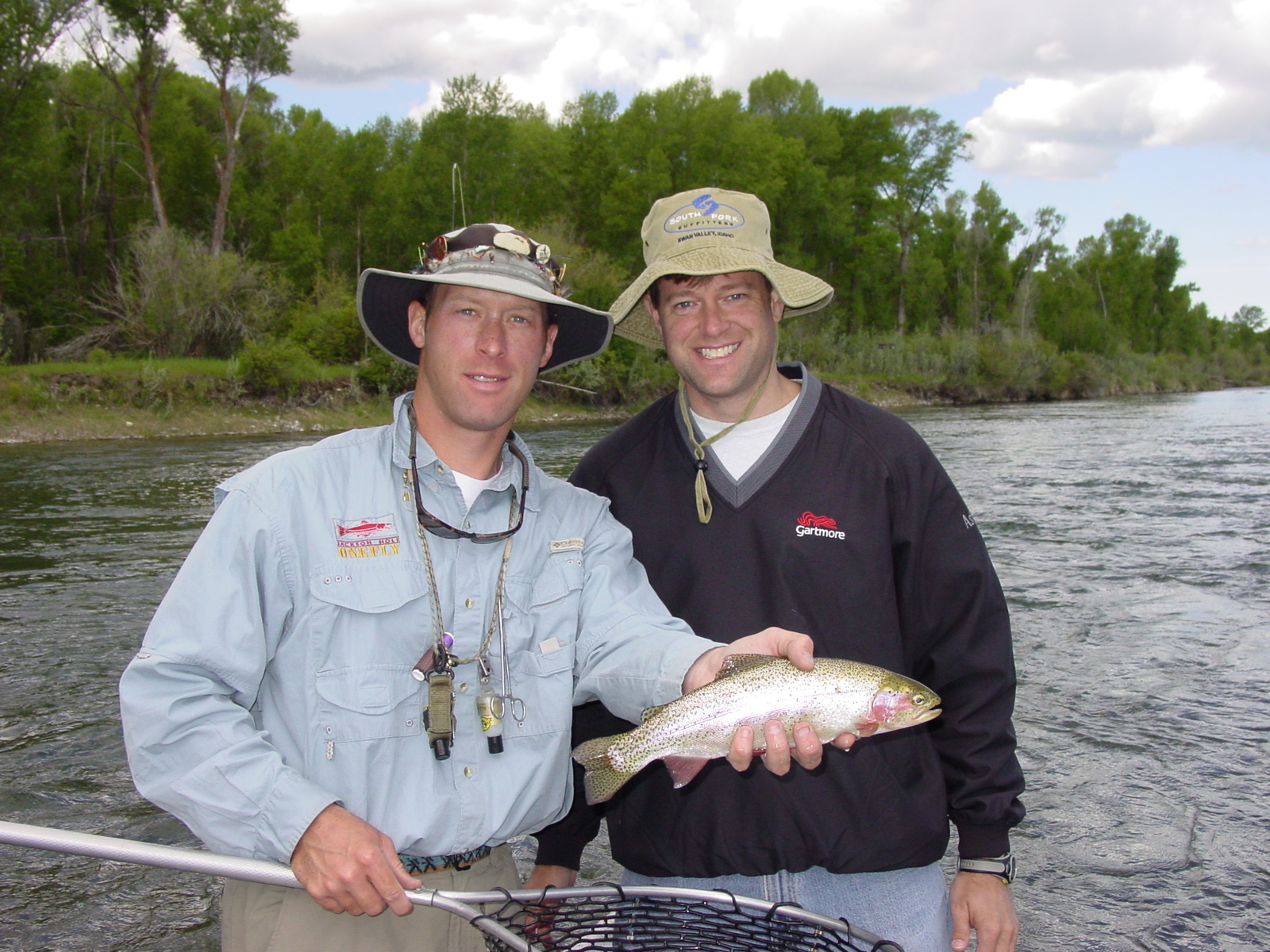 June 10, 2005
Not to be completely outdone I did managed to bring in a Rainbow Trout of my own, or "Bo" as we experienced fly fisherman call them.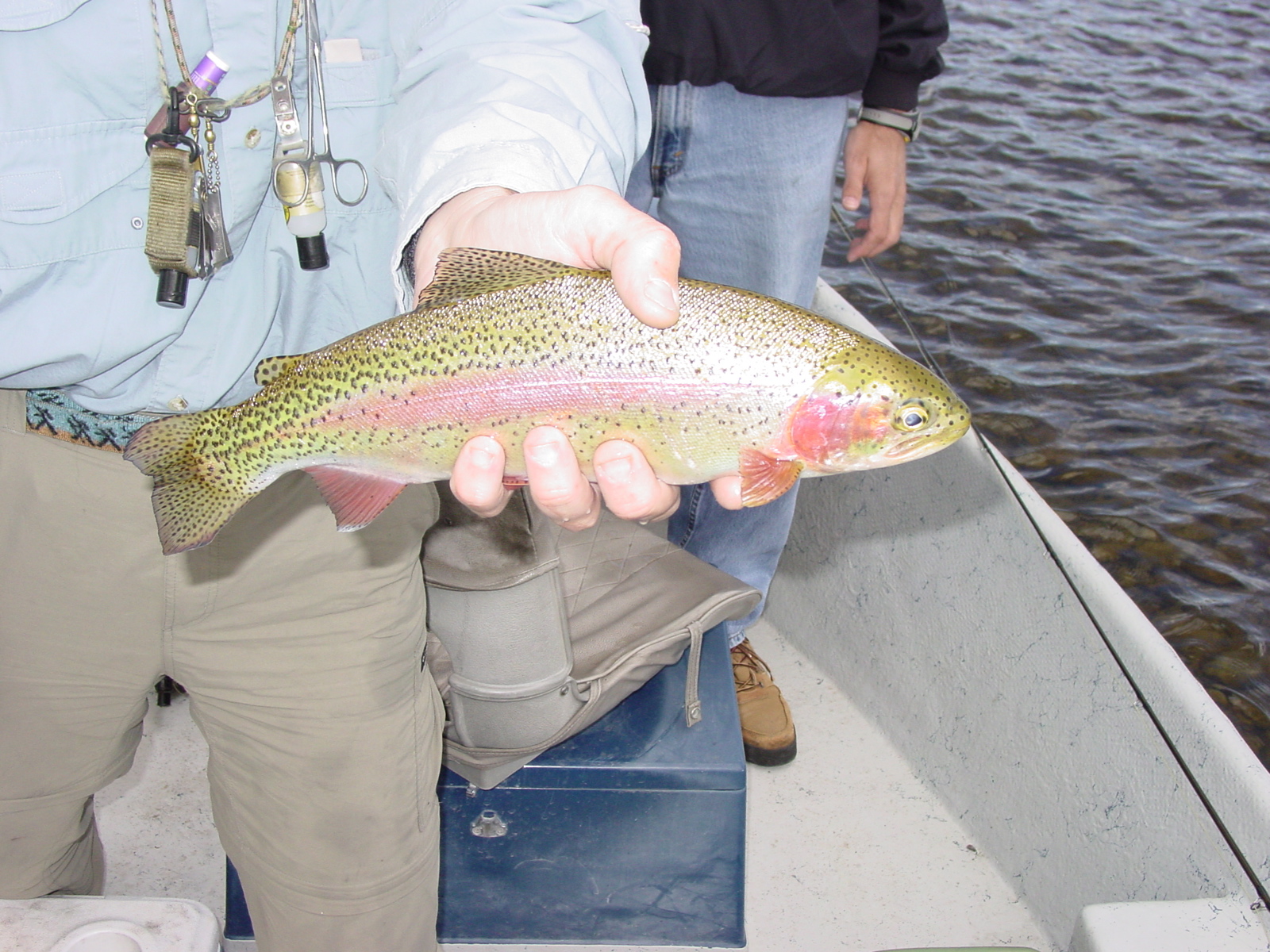 June 10, 2005
Okay, one more time since I don't catch many fish.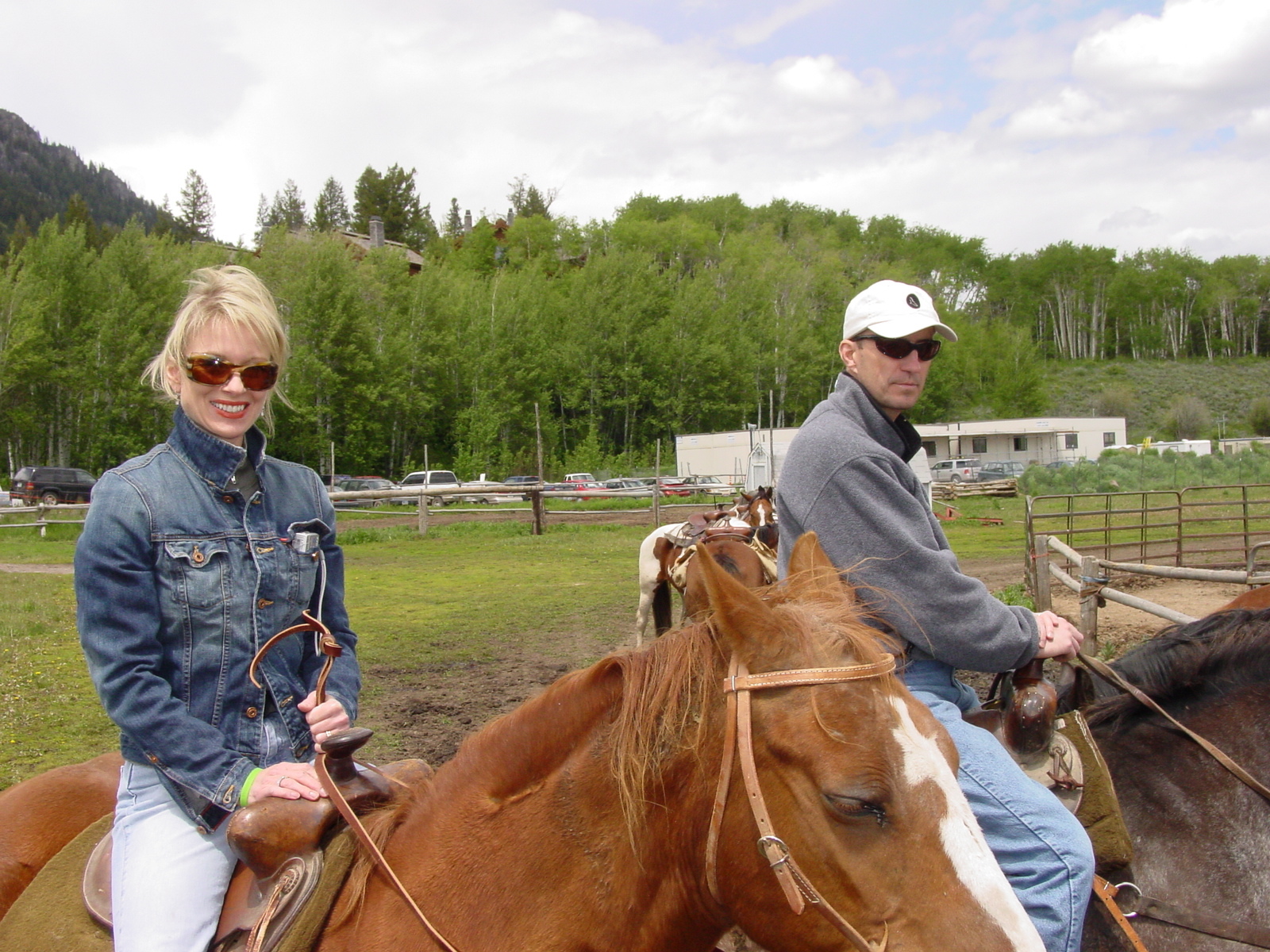 June 10, 2005
That afternoon we took the kids on a trail ride. Brynja was especially happy to finally be on a horse. Here are Bob and Andrea just after getting in the saddle.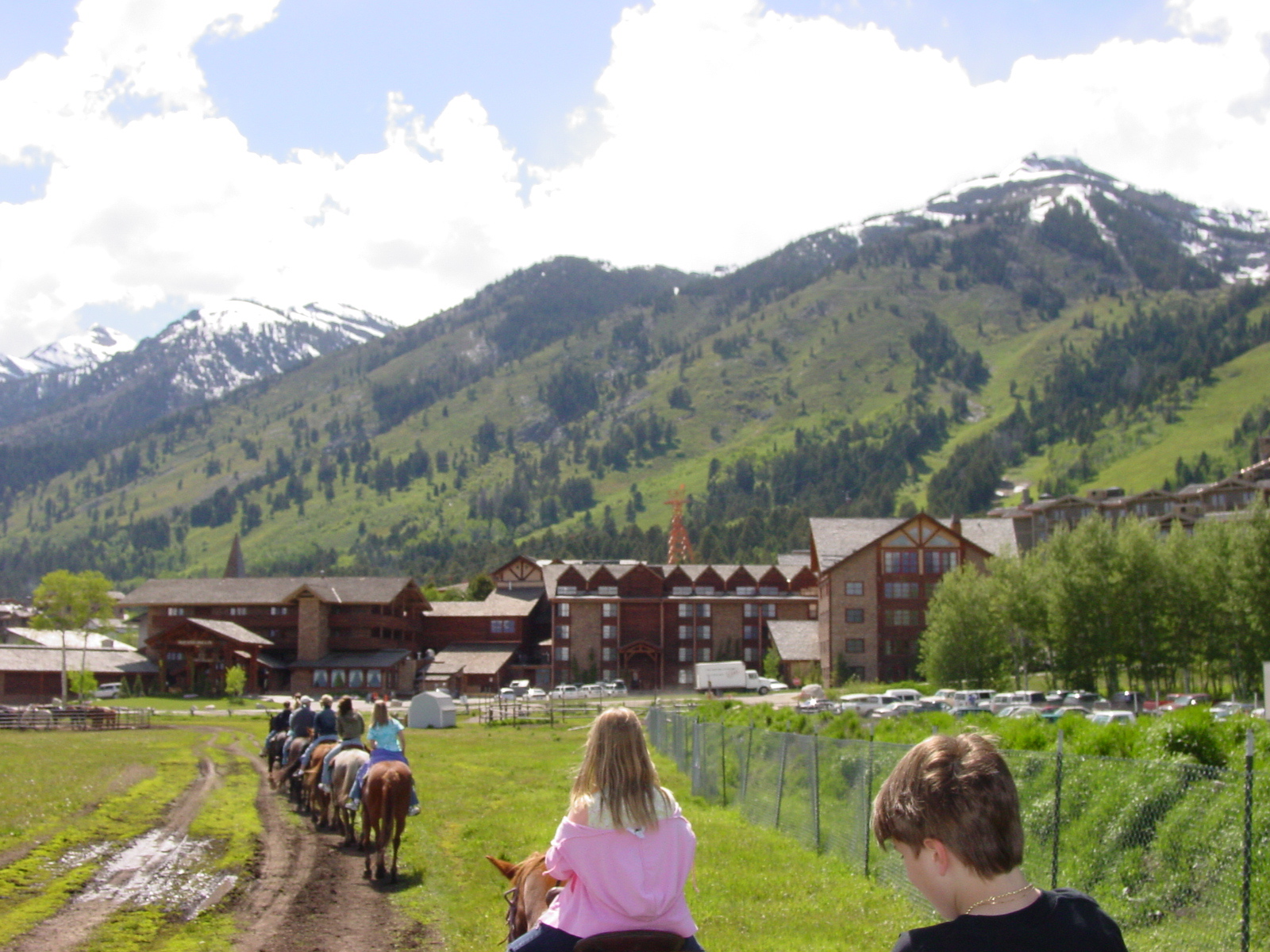 June 10, 2005
At the end of the ride we were coming back to the stable with the Jackson Hole Ski Resort in the background. We decided we'd have to come back during ski season!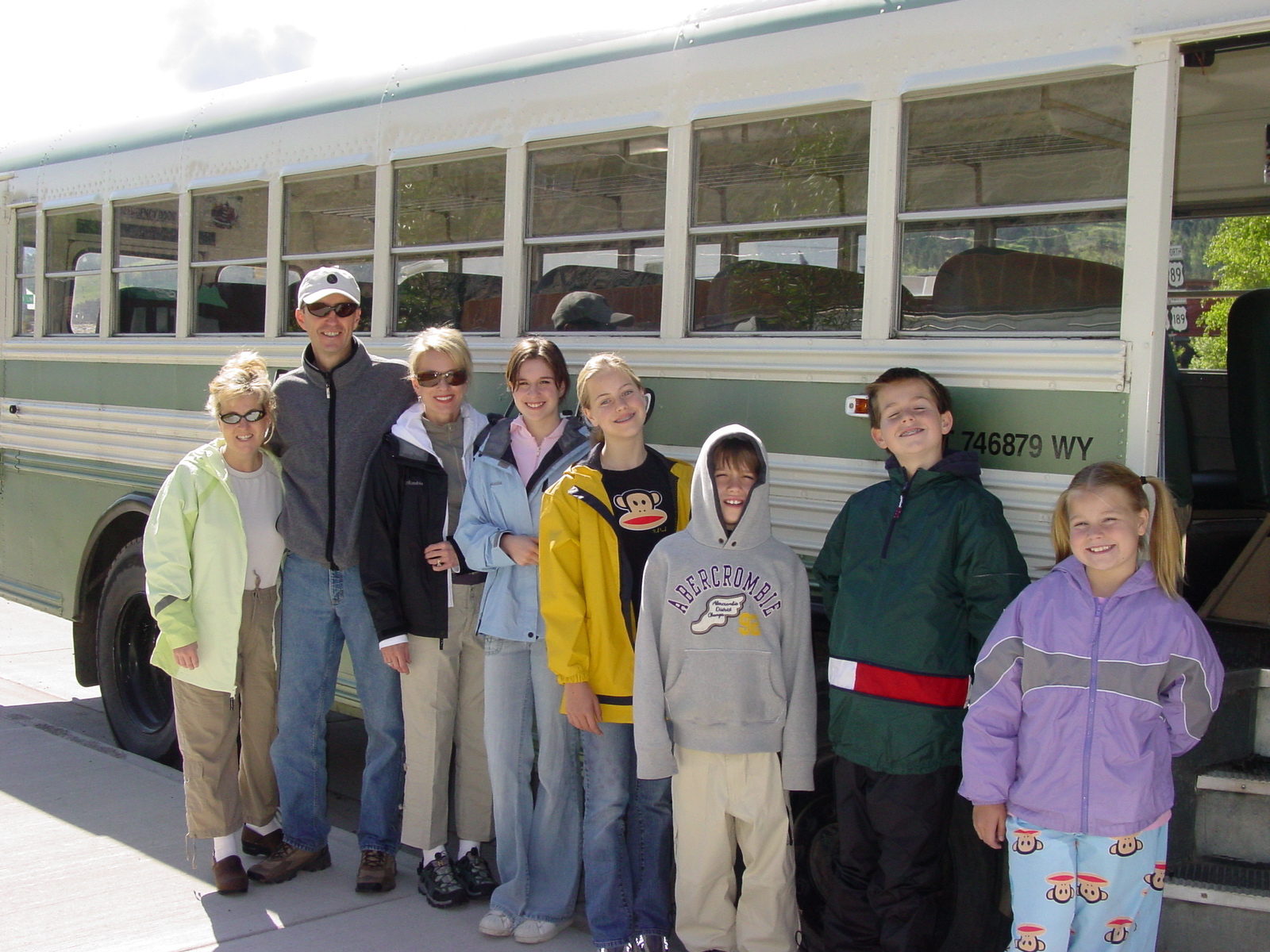 June 11, 2005
The next morning we were off to go rafting. We opted for an easy float which Jack and Jett weren't too happy about. They were hoping for level five rapids with maximum casualties.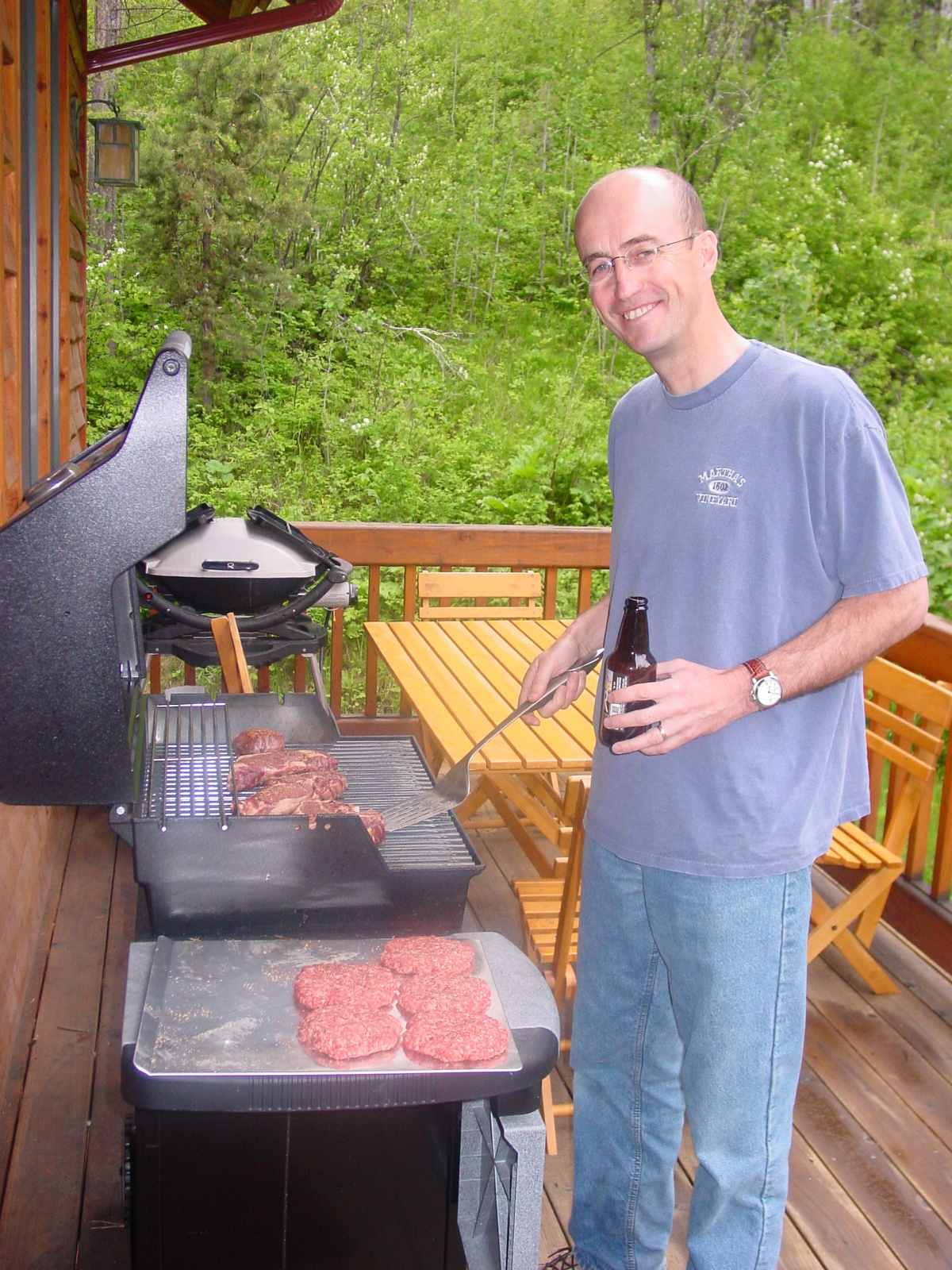 June 11, 2005
Vegetarians miss out in cattle country. We picked up steaks and burgers at Dick Cheney's favorite butcher in Jackson, Prime Cut Meats.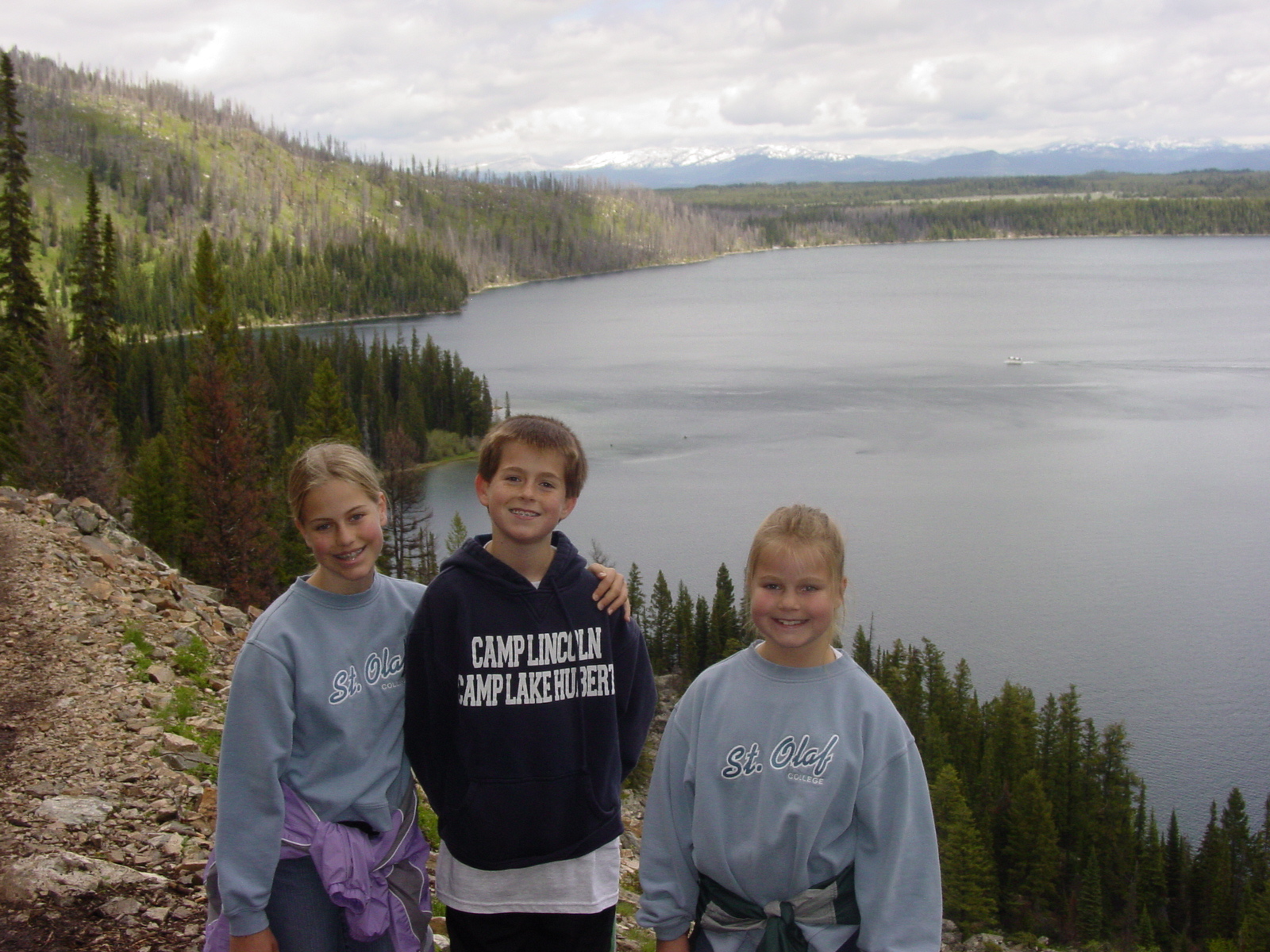 June 13, 2005
Hiking in the Tetons is one of the must-do activities. Here are the kids on their way up the mountain.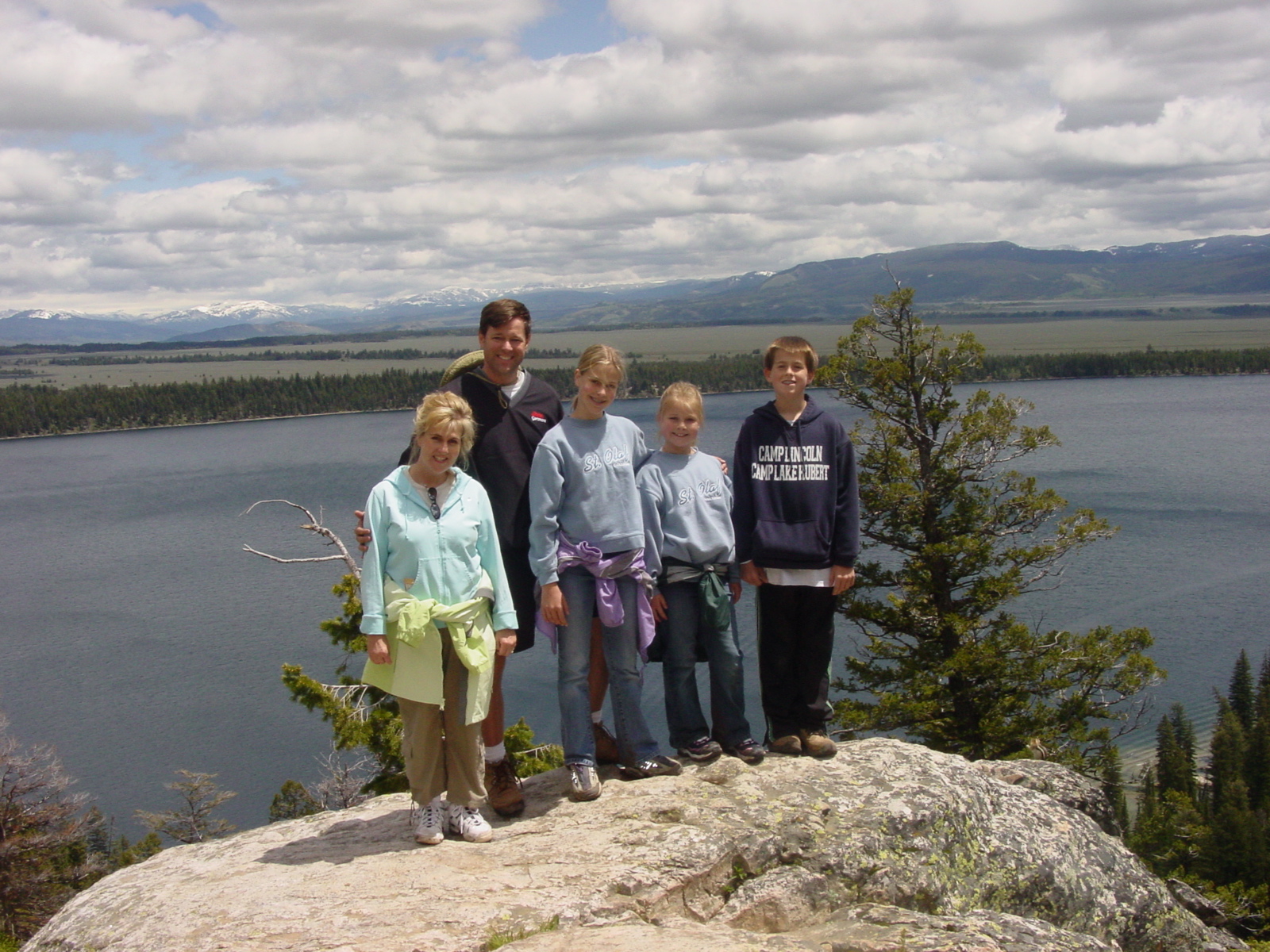 June 13, 2005
We had someone snap a family photo at Inspiration Point, high above Lake Jenny.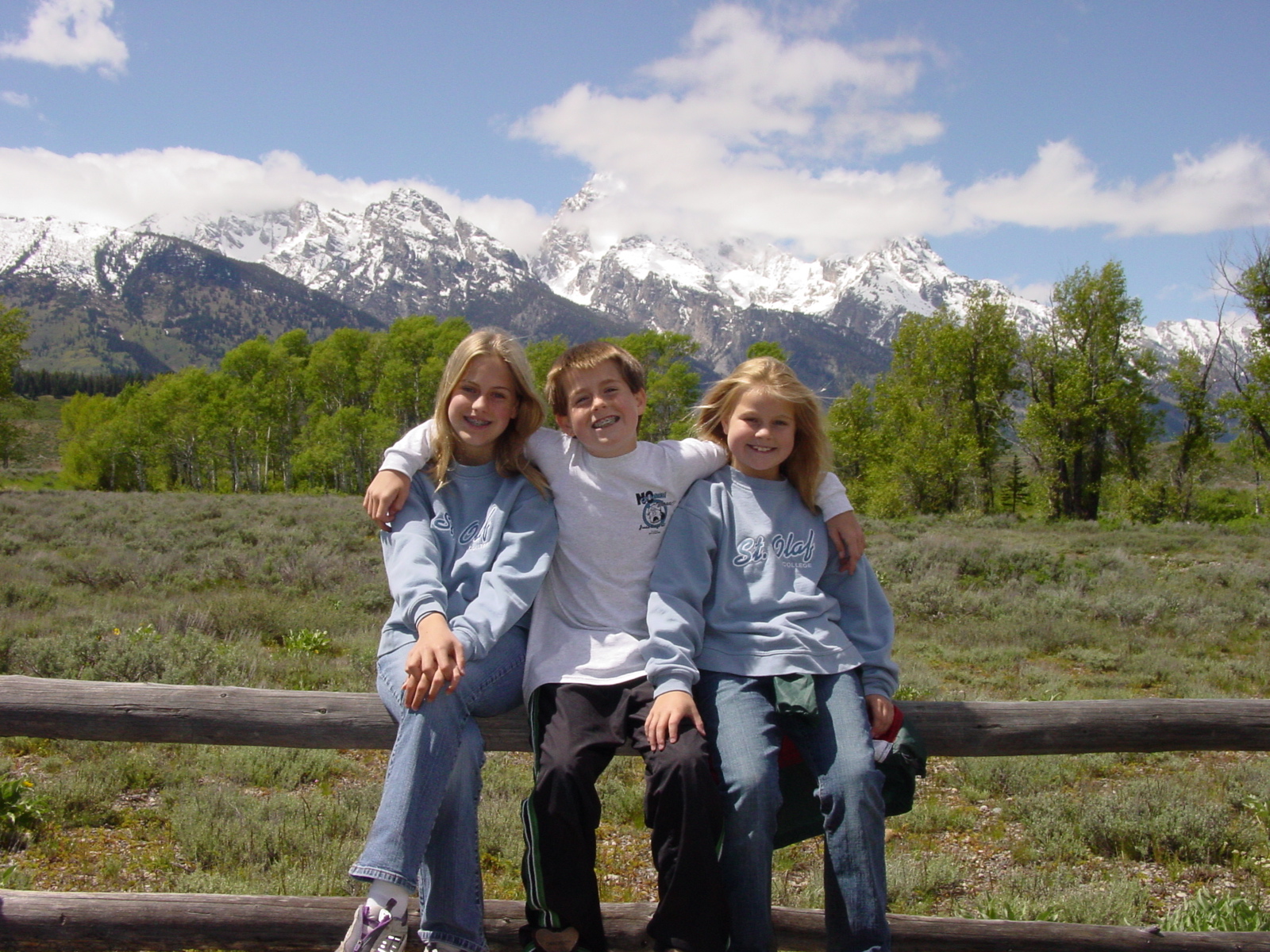 June 13, 2005
Just behind the Chapel of the Transfiguration the kids posed for a picture with the Tetons in the background.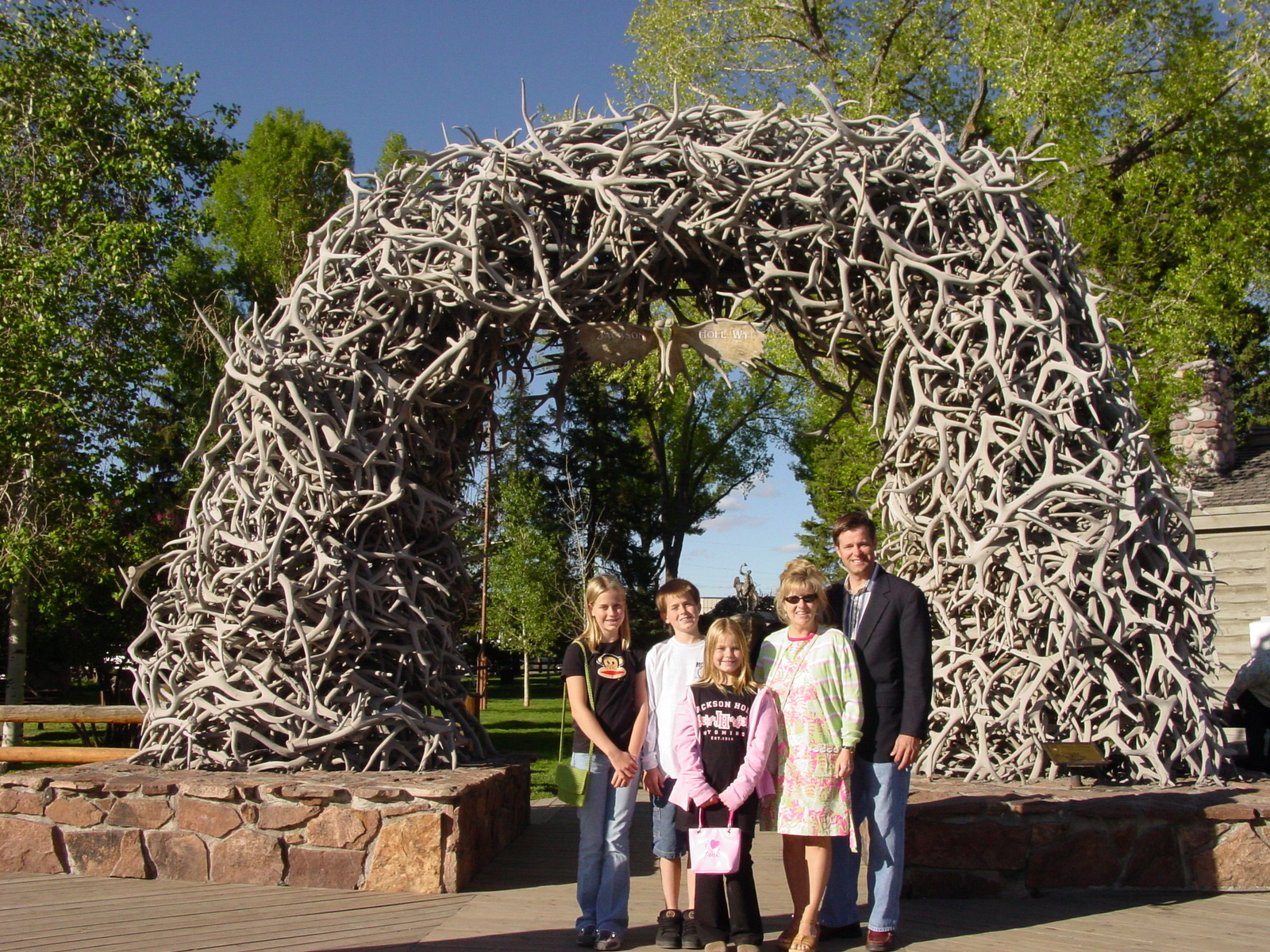 June 13, 2005
Downtown Jackson is a very cute town. Each corner of the town square has an archway made out of Elk Antlers.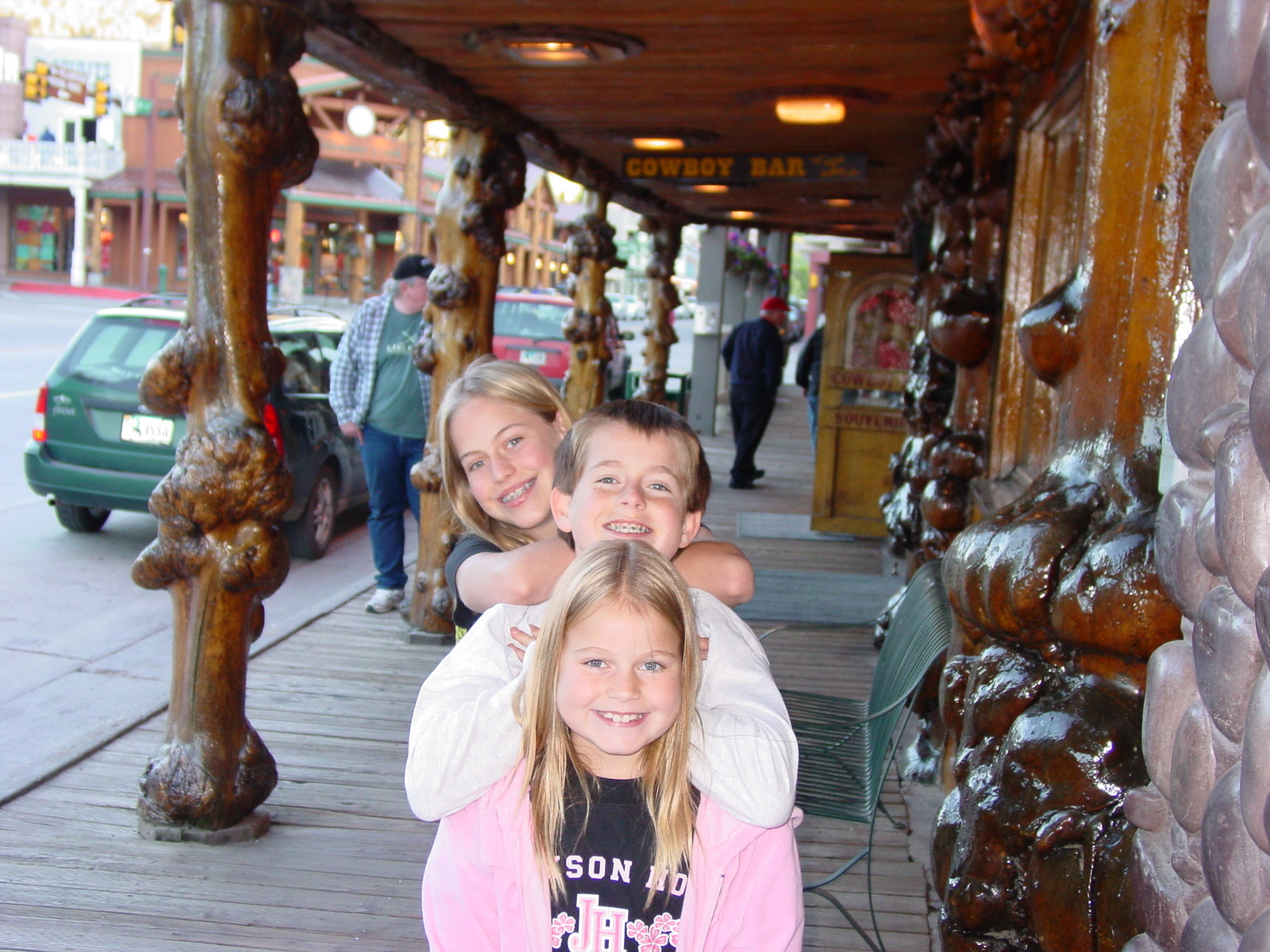 June 13, 2005
Brynja, Jett and Treva posed for a picture outside the famous Cowboy Bar. The next day we were on to Cheyenne, Wyoming and finally to Denver where Elizabeth and the kids boarded a plane back to Minnesota. I stayed in Colorado where I met up with friends to celebrate three 40-year-old birthday parties.
---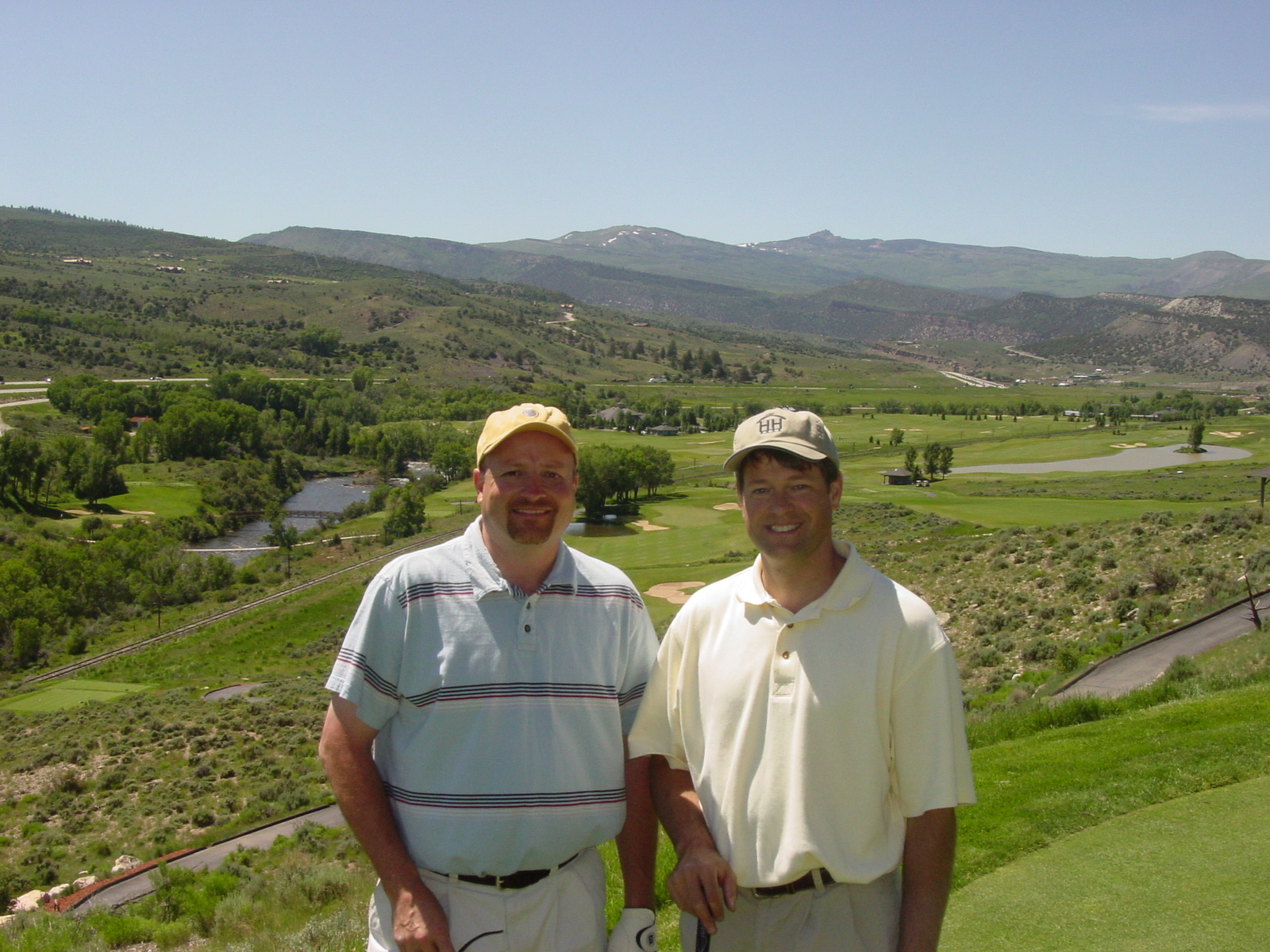 June 17, 2005
The focal point of the trip was golf, which we managed to play every day. Thanks to the generosity of our friend Eric (and his parents!) we played a couple amazing courses and had 5 star accommodations. Here Der and I stand with a typical vista in the background.
June 17, 2005
Here's me with Der and Johnner after completing our round. Just don't ask me what I shot.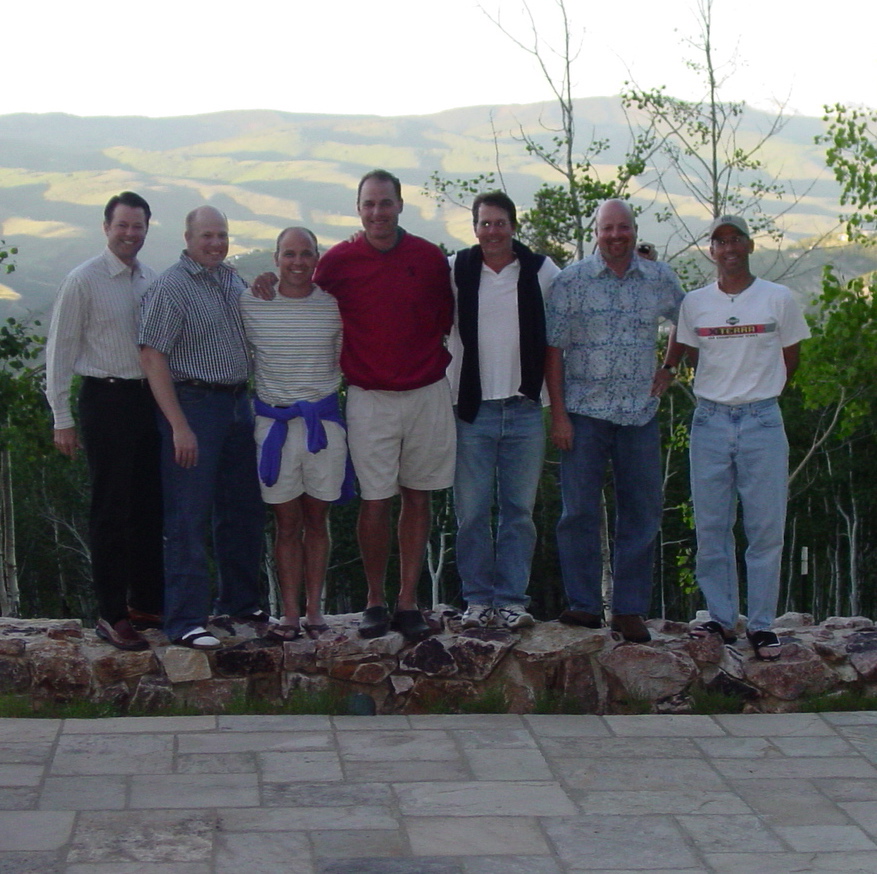 June 17, 2005
Here's the whole crew just before a fun night out in Vail Village. Bob, Eric and Swanny were the birthday boys, but that didn't stop the rest of us from celebrating with style.